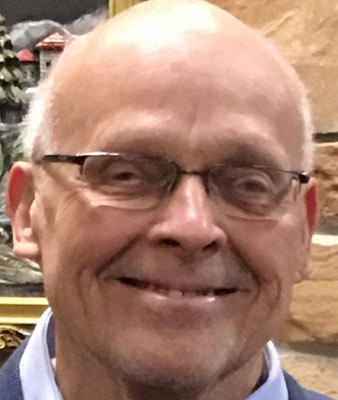 JAMES B. LEUGERS
CANFIELD - A Mass of Christian Burial will be held on Thursday, April 19, 2018, at 11 a.m. at St. Michael's Church, 300 N. Broad St. in Canfield, for James B. Leugers, 78, who went home to be with the Lord on Sunday evening surrounded by his loved ones, after losing his battle with Alzheimer's.
James was born on Oct. 20, 1939, in Lockland, a son of the late Bernard and Elizabeth (Thaman) Leugers.
He graduated from St. Xavier High School in Cincinnati and then went on to further his education by earning his Bachelor's degree in Business Administration from Xavier University.
He taught 7th and 8th grade history at Sts. Peter and Paul in Reading.James then worked as a claims manager for State Farm Insurance, where he truly enjoyed and thrived in his career until his retirement after 36 years.
James was a devoted Catholic belonging to St. Michael's Church in Canfield for 39 years. His most precious memories were spent with his family, whom he cherished and adored. His grandchildren always had a special place in his heart. In his free time, he and Paulette enjoying traveling to Florida and Atlantic City. James also enjoyed yard work and golfing.
He leaves behind his wife and best friend of 48 years, Paulette Sims, whom he married on June 5, 1970; his children, Jim (Jennifer) Leugers of Canfield, Steve (Suzi) Leugers of Strongsville, Dan (Leigh Ann) Leugers of Hudson, Terry (Sally) Leugers of Lawrenceville, Ga., and Lynn (David) Tishey of Suwanee, Ga.; grandchildren Brady, Casey, Chase, Kendall, Anderson, Alissa, Jessica, Brianna and Alayna; his sisters, Betty Ann Uhlhorn, and Mary Lou (Bill) Kissel; and his mother-in-law, Serena May.
Besides his parents, James was preceded in death by his son, Jeff and a brother, Bucky.
Family and friends may call one hour prior to services at the church.
Care was entrusted to the Higgins-Reardon Funeral Homes, Boardman-Canfield chapel.
In lieu of flowers, memorial donations can be made to Alzheimer Association in James's memory at http://act.alz.org/site/TR/ Events/TributesAlzheimersChampions?pxfid=466899&fr_id=1060&pg=fund or to St. Michael's Church.
Guestbook Entries
Condolences
"Jim--it is with great sadness that I learned of your passing. I would like to say thank you for taking me under your wing, teaching me, and always being willing to listen to me and offer solid advice from your years of experience. To Jim's family--May God bless you during this difficult time. I enjoyed working with Jim very much and am better for his influence on my life."
» dan kalm on April 26, 2018
Condolences
"So sorry to hear of the passing of Jim. I've worked with Jim at State Farm along with 2 of his sons. Jim was very much respected! My thoughts to his family and loved ones. Katherine Pearce Dallas, GA"
» Katherine Pearce on April 17, 2018
In memory
"My sympathy to the family"
» Sandy malsch on April 17, 2018
In memory
"To all of the family I'm sorry for your loss"
» Sandy malsch on April 17, 2018
Deepest Sympathy
"Paulette and family, I am so sorry for your loss. I always enjoyed Jim's visits to the library. Always friendly and sweet. Know that you are all in my thoughts and prayers. Linda Lanterman"
» Linda Lanterman on April 17, 2018
!
"I also worked alongside Jim. He was a very honest and trustworthy man, I am sure he will be missed by his wife and family. "
» Betty Tanner on April 17, 2018
Rest in Peace Jim
"For many years Jim was the Claims Manager for State Farm in this area and with whom I had many pleasurable meetings while I represented State Farm. He was a class guy; straight=forward, down to earth, humble and honest. My condolences to his family"
» Dave Comstock Sr. on April 17, 2018
sympathy
"So sorry for your loss. Jim was a wonderful person to work with at State Farm, he was always kind and seemed to have a smile on his face. Your family is in my thoughts and prayers."
» Brenda Hanna on April 17, 2018
Condolences
"My condolences to the family and friends of James. He was a kind and honorable man. "
» Vickilee on April 17, 2018
James R Maynard
"RIP Jim. What a great man who was always a class act to family and friends. My thought and prayers to his family and friends during this difficult time. Jim and Brenda Maynard."
» Jim Maynard on April 17, 2018
Sign the Guestbook
---