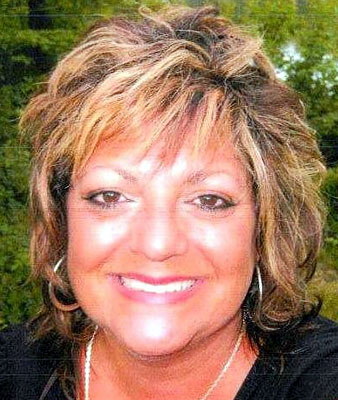 DEBORAH 'DEBBIE' DELLAVERSON D'ALTORIO
BOARDMAN – Deborah "Debbie" Dellaverson D'Altorio, 59, passed away the evening of April 12, 2018, at the Cleveland Clinic, in Cleveland. She was at peace and surrounded by loved ones when she passed.
Debbie was born May 18, 1958, in New Castle, Pa.
Debbie was married for 34 years to John R. D'Altorio Sr. They were married on July 15, 1984.
Debbie attended and was a member of St. Luke's Parish in Youngstown, where she also taught Sunday school. She was a graduate of New Castle High School, class of 1976, where she was a cheerleader. Debbie retired in 1998 after 22 years with Baltimore Life Insurance Company, in New Castle.
Debbie was a loving wife, mother, daughter, sister, aunt and friend. Debbie enjoyed hosting and cooking for her family and friends. Debbie was an avid Pittsburgh Steelers fan. Debbie loved arts and crafts and frequently attended Paint and Sips. Debbie enjoyed relaxing on her front porch during thunderstorms and bird watching on sunny days. She liked to name the numerous hummingbirds that would visit the many feeders she left out for them. Debbie loved her many pets which included dogs, birds, guinea pigs, fish and reptiles. When Debbie was not floating on her blue raft in the pool she could be found burning her favorite scented candles and reading a true crime novel or collecting her crops on FarmVille. She liked to walk through Mill Creek Park. Debbie looked forward to the yearly family trip to KennyWood and didn't mind waiting in line for her favorite roller coasters. Debbie put others before herself and loved to help anyone in need.
Debbie lived her life for her children. Family was most important to her. Debbie consider her friends to be chosen family. Anyone who had the chance of befriending Debbie had a loyal friend for life.  
In addition to her husband, John, she is survived by her mother and stepfather, Mary Ann and John Morici of New Castle; three children, Anthony J. D'Altorio of Boardman, Ciara T. (Brian) Barth of Pittsburgh, and Vincenzo J. D'Altorio of Boardman; brother James (Shannon) Dellaverson of New Castle; Janice (Gene) Hall of Columbus; and numerous nieces, nephews, great-nieces, great-nephews, and cousins.
Mrs. D'Altorio was preceded in death by her father, James P. Dellaverson; brother Anthony Morici; maternal grandparents, Anthony and Florence Cambroto; and paternal grandparents, Sandy and Theresa Dellaverson.
Calling hours will be from 5 to 8 p.m. on Tuesday, April 17, 2018,  at the Rossi Brothers & Lellio Funeral Home 4442 South Ave. in Youngstown.
A procession will leave the funeral home at 9:30 a.m. on Wednesday morning for St. Luke's Parish, 5235 South Ave. in Boardman, where a Mass of Christian Burial will be celebrated at 10 a.m. The Rev. Edward Noga of St. Patrick's Parish will officiate. The Rite of Committal and Burial will be at St. Vitus Cemetery.
Arrangements were entrusted to the Noga Funeral Home Inc., 1142 S. Mill St. in New Castle.
Guestbook Entries
***
"I am so going to miss you my friend. I could list a book of things that will never be the same but you know what they all are. I am just glad you are no longer in pain and at peace. Even though we lost an extra special person, heaven has gained a true angel. Until our paths cross again someday, may the others who have passed before been there to greet you. Love Ya"
» Karen on April 16, 2018
Sympathy
"Jim & Shannon, I so sorry to hear about your sister. Jim, you spoke of her often with her jokes on the computer you would show me. My sympathy to you and your family. Mary Ann Withrow"
» Mary Ann Withrow on April 16, 2018
Humble Condolances
"I am very sad to have heard this news, Deborah was a wonderful and kind hearted person. It pains me the loss her family has suffered and knowing anything I could say would sound so hollow and empty in the shadow of this tragedy. To her husband John and her family I offer my deepest condolences, and if I can be of any help just ask and I will do whatever is within my power to help. Know that Deborah will be missed by many."
» Mark on April 16, 2018
Condolences
"May your family find peace and comfort in your memories of Debbie. Our prayers are with family and friends. "
» Robin & Keith Eisenbrei on April 17, 2018
Our Deepest Sympathies
"Our hearts are broken, and our prayers and thoughts are with Debbie's family at this time. We found out too late to make the trip up and it saddens me that I can't be there. I think of Debbie so often, and will always remember her smile, her love of family, and well.... just JOY. Debbie was JOY. She will be so sadly missed by so many. Hugs to you Debbie, may you rest in peace. I know that the Angels will have to move over now, and let you shine over us all. Our love to you and to your extended family. Joni, Carlos, Carlos Jr, (Michele and family), Jeni, and Julie."
» Joni Ferrer on April 18, 2018
Sign the Guestbook
---