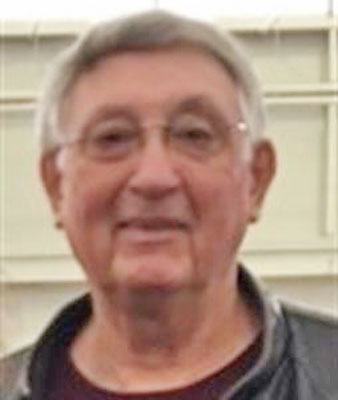 WILLIAM G. PITT
NORTH JACKSON - Funeral services will be held on Wednesday, April 18, 2018, at 10 a.m. at the Higgins-Reardon Funeral Home, North Jackson Chapel, for William G. Pitt, 81, who went home to be with the Lord, on April 13, 2018, at The Cleveland Clinic surround by his loved ones.
William was born on Aug. 20, 1936, in Mt. Pleasant, Pa., a son of the late Chester L. and Ruth (Lessman) Pitt. He worked at Bryce Brothers as a glass worker for 14 years and at General Motors as an auto worker for over 32 years. William was a North Jackson resident for more than 50 years.
In his free time, he enjoyed collecting Indian artifacts, bowling, and was an history buff. He devoted his life to his family whom he loved and adored, spending countless house attending his children and grandchildren's sporting events, especially cross-country and track.
He leaves behind his wife and best friend of 60 years, Wilma Robaugh, whom he married on Oct. 26, 1957; his children, Darla (Scott) Hadley of Boardman, Doug (Leleah) Pitt of Girard; siblings Patricia Lopes, Suzy (Henry) Gross, and Cary (Gloria) Pitt; and grandchildren Jarryd Pitt, Jeremy (Katie) Pitt, Jonathan Pitt, Mark Hadley, Nathan Hadley and Caitlyn Hadley.
Besides his parents, he was preceded in death by his father-in-law, Walter Robaugh; mother-in-law Sarah Torrence-Robaugh; a brother-in-law, Alvin Lopes; a brother-in-law, Robert Blackstone; a sister in-law, Naomi Robaugh-Blackstone; a brother-in-law, Geary Robaugh; and a brother-in-law, Glenn Robaugh.
Family and friends may call on Tuesday, April 17, 2018, from 5 to 8 p.m. at the Higgins-Reardon, North Jackson Chapel, 439 S. Salem-Warren Road, RT 45, in North Jackson.
Guestbook Entries
Loving hearts
"I will miss you and your teasing ways, and your smile. Love you Uncle Bill RIP. Have fun up there with mom and dad. Enjoy your morning coffee."
» Kimmy Berquist on April 16, 2018
Condolences
"My heart felt sympathy for your loss. My thoughts and prayers to Wilma, Doug and the family. Anna Old Bowling buddy "
» Anna fitzgerald on April 15, 2018
In Sympathy
"My deepest sympathies to the Pitt & Hadley familes. Bill & Wilma were second parents to all the kids on the track and cross country teams as we were growing up, running along the side lines cheering for us. They continued to cheer just as joyfully for our successes as we became adults. There were always big smiles and hugs whenever we saw each other to this day. He will truly be missed. "
» Christine (Smith) Large on April 15, 2018
April 18,2018
"Thoughts and prayers are with all of you."
» Debbie Clark Lesho on April 18, 2018
Sign the Guestbook
---