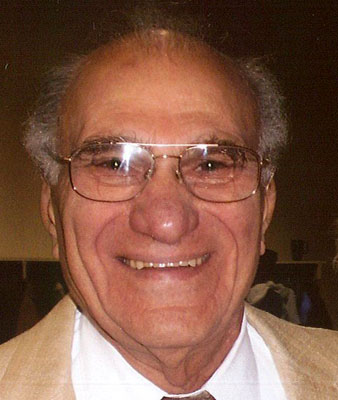 VINCENT BELLANCA SR
POLAND – Vincent Bellanca Sr., 93, a servant of the Lord Jesus Christ, went to his heavenly home early Saturday morning, Sept. 9, 2017.
Vincent Joseph Bellanca also known as "Guy," was born on Nov. 30, 1923, in Lowellville, the son of Louis and Anna Tomasino Bellanca.
He graduated from Lowellville High School in 1940, and worked for Erskine Trucking and Sharon Steel.
In 1943, he was drafted and served in Europe with the 44th Div. 157th F. A. Btln. He had over 240 days of combat and was in the Battle of the Bulge and the Battle of Nordwind, earning four battle stars, the European-Mid Eastern Campaign Medal, American Campaign Medal, Victory Medal and the Knight of the French Legion of Honor Medal. He was honorably discharged as Sgt. T4. He was a member of the American Legion Post 247, the VFW Post 3538, life member of the DAV Chapter 2, AMVETS Post 44 and chaplain of the United Veterans Council.
He married Margaret Carducci on Aug. 10, 1944, and they raised five children before her death on Feb. 26, 1965.
He enjoyed spending time with his family, especially summers at their cottage on Lake Erie.
Through the GI Bill, he received training as a radio/television serviceman. He was the owner of Vince's TV sales and service until his retirement in December of 1982.
On Oct. 3, 1976, at the Pleasant Valley Church, he gave his heart and soul to his Lord and Savior, Jesus Christ. This led him to minister in Christian praise and worship in many churches, bible studies, men's fellowships and on TV.
He was very active in the FGBMFI as an international director and was music director at the Newman Center at Youngstown State University. He was president of the Poland AARP and the Latin Culture Foundation. He enjoyed golfing, skiing, bowling, playing his guitar and entertaining family and friends with his Italian recipes, using food from his garden.
At the Pleasant Valley Church, he met Cheryl Manley Powers and they were married on June 11, 1983. They ministered together at many Christian meetings, nursing homes and the JJC. They ran a Shaklee distributorship. They enjoyed hosting Christmas Eve for the family every year.
He leaves to cherish his memories, his wife, Cheryl; his children, Pastor Joanne Baltes, Margie Roberts, Louise (Dominic) Milanese and Pastor Vincent (Beverly) Bellanca Jr.; grandchildren Lisa (John) Centofanti, Jerry (Lorrie) Rudiak, Jennifer (Travis) Perry, Eric (Lia) Rudiak, Jason (Sherri) Roberts, Mark (Joy) Rudiak, Julie (Tom) Sapp, Paul (Shannon) Bellanca, Jenna Bellanca and Danielle (Dustin) Knapp, Rick (Beth) Baltes, Denise (David) Jamieson, Dominic Milanese Jr., Autumn (Jon) Sunderlin and Ryan (Mindy) Pontius; 26 great-grandchildren; a brother, Carmen (Aurora) Bellanca; and a sister, Angie Giancola.
He was preceded in death by his first wife, Margaret; brothers Vincenzo and Michael, a sister, Lena Shepka; a daughter and son-in-law, Jerry and Anna Rudiak; and grandson David Rudiak.
The family wishes to thank Masternick Memorial Care Center and Home Instead for their loving care.
Calling hours will be held on Friday from 4 to 8 p.m. and Saturday from 10 to 11 a.m. and the service the will be held at 11 a.m. on Saturday at the Victory Christian Center, 339 McCartney Road, Coitsville, OH 44436.
If you would like to make a material tribute in "Vince's" memory, please send it to the Victory Christian Center, 15 Bedford Road, Lowellville, OH 44436, with a note saying it is for benevolence in memory of Vince.
Arrangements are by the Cunningham-Becker Funeral Home in Poland.
Visit www.beckerobits.com to send condolences.
Guestbook Entries
« Be the first to sign VINCENT BELLANCA SR guestbook.
---