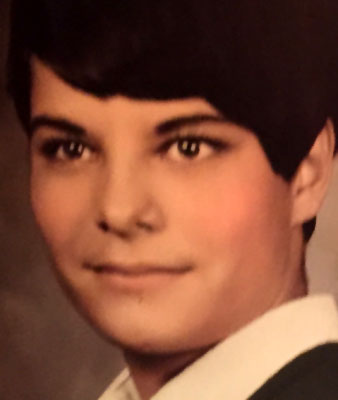 PATRICIA SELNER-SCHNECK
YOUNGSTOWN - Funeral services will be held on Thursday, Sept. 14, at 9:30 a.m. at the Vaschak-Kirila Funeral Home, and at 10 a.m. at St. Brendan Church for Patricia Selner-Schneck, 69, who passed away on Sunday, Sept. 10.
She was born Nov. 26, 1947, in Youngstown, daughter of Harry L. Selner and Ann Leardi.
She was a graduate of Chaney High School and also graduated from Youngstown State University. She worked as a social worker for Dacas, and belonged to St. Brendan Catholic Church.
"Patty" was a loving mother, nana and sister. She was a dedicated, loyal friend who liked music and dancing and could always light up a room with her personality and humor. Patty was a hoot since her teenage years, running around the west side with her twin brother, Harry. Everyone that knew her has a story of kindness and laughter. She ends her life a faithful person to family, friends, and her faith in Jesus Christ. "Till we meet again in heaven 'mom,' 'nana,' Patty."
Surviving are a son, Felix Catheline of Columbus; a daughter, Cynthia Catheline (Chris Childers) of Youngstown; a brother, Harry (Mary) Selner of Husdon; and a sister, JoAnn (Don) Kalenits of Youngstown. She also leaves a grandson, whom she absolutely adored, Caleb Childers. She also leaves many nieces, nephews, great-nieces and great-nephews.
She was preceded in death by her parents; her husband, John Schneck, whom she married in 1988; and two stepbrothers, Ralph Selner and John Selner.
The family would like to thank Patty's family physician, Dr. Tolga Icli, Dr. Sanaullah Khalid and the Hope Center for Cancer Care team, the UH Seidman Cancer Center team, Dr. Brian Bolwell, Dr. Sudipto Mukherjee, Dr. Aaron Gerds and the leukemia team at the Cleveland Clinic, and the entire team at Hospice House for their compassion and care.
Friends will be received today, Sept. 13, from 4 to 7 p.m. at the Vaschak-Kirila Funeral Home Inc. in Youngstown.
Please visit www.vaschak-kirilafh.com to view this obituary or to send condolences to the family.
Guestbook Entries
Friends Forever
"My heart is sadden for the loss of a dear faithful friend. Our memories will be stored so I never forget all the fun,crazy things we did.I will talk to you each day to keep you close to me.You are with God Love ya forever"
» Delores A Kind on September 14, 2017
Condolences
"I fondly remember Patty laugh and smile she was a good friend in High School, My thoughts and prayer go out to her family during this time of great loss. "
» Bob Navarro on September 13, 2017
Felex and Harry
"All our prays are with you during this sad time.Patty was a special sister and mother. Her love of family and life will be cherished by all who knew her. Remember all the fun times, and know this,Patty is already watching you from heaven. God Bless you all today abd always. Coach and family"
» Richard Angle and family on September 13, 2017
Sign the Guestbook
---