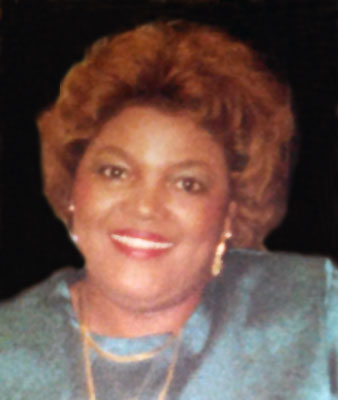 MAGDALENE PRUITT CAFFEY
YOUNGSTOWN – Funeral services will be held at 11 a.m. on Friday, Sept. 15, 2017, at the Beulah Temple United Holiness Church, 523 Griffith St., for Mrs. Magdalene Pruitt Caffey, 77, who departed this life on Wednesday, Sept. 6, 2017, at her residence.
Mrs. Caffey was born Jan. 8, 1940, in Ozark, Ala., a daughter of Lawrence and Lalar McCray Pruitt.
She was a graduate from The Rayen School, graduating in 1959, and retired in 2003 from Northside Medical Center after 35 years of service.
On Oct. 25, 1959, Magdalene Pruitt married her longtime sweetheart, Marvin C. Caffey. From this union three children were born.
She loved spending time with her family and cooking for them at family gatherings.
She leaves to carry on her legacy, her husband of 58 years, Marvin; one daughter, Kimberly Caffey; two sons, Antoine (Jackie) Caffey and Quinn Caffey, all of Youngstown; one sister, Verdell Pruitt of Austin, Texas; three grandchildren, Shanice Caffey of Youngstown, Jasmine (Joseph) Hernandez of San Antonio, Texas, and Derek (Ayanna) Caffey of Powder Springs, Ga.; three great-grandchildren; and a host of nieces, nephews, other relatives and friends.
She was preceded in death by her parents, and siblings Donnell Pruitt, Clemmon C. Pruitt, and William Pruitt.
Friends may call from 10 to 11 a.m. at the church.
Arrangements are being handled by the F.D. Mason Memorial Funeral Home Inc.
Guestbook Entries
Condolences
"Marvin and the Caffey family. May the Lord comfort you during this sorrowful time."
» Ted Fagan on September 13, 2017
CONDOLENCE
"ANTOINE AND FAMILY OUR SINCERE HEART FELT SYMPATHY GOES OUT TO YOU ALL . MAY SHE REST IN PEACE."
» GILBERT AND PATSY JACKSON on September 13, 2017
My deepest condolences
" May the God of all comfort...comfort Madeline's family and friends in this time of need...2 Corinthians 1:3,4"
» KMB on September 13, 2017
Caffey
"Rest Well Mrs Caffey, you gave Love and You are Loved and Dearly missed. Kimberly, I love you sis.. "
» Lydia Valentine on September 13, 2017
condolences
"Kim and family, Seeing your Mom's smile on the picture took me back to happy times, I can hear her laugh.We know she is in God's hands now .Who better to care for her? And according to his word,you will one day be reunited with your Mom.You will always have a part of her with you (in your heart) We love you ,and we pray for God's grace and strength to you and all your family."
» paula &teddy melton on September 12, 2017
Sign the Guestbook
---