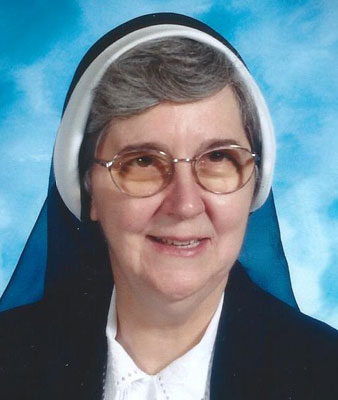 SISTER MARY DUNN OSU
CANFIELD – Sister Mary Dunn, OSU, a longtime leader in education in the city of Youngstown, died on Thursday Oct. 26, at The Cleveland Clinic after a short illness. She was 76.
Sister Mary was born on Nov. 18, 1940, in Youngstown, the daughter of Elverton M. and Nellie Gallagher Dunn.
She entered the Ursuline Sisters of Youngstown on Sept. 7, 1958, and made perpetual profession on Aug. 10, 1964.
She was educated at St. Nicholas Elementary School, and was a 1958 graduate of Ursuline High School. She earned a BS in Education from Youngstown State University in 1963 and earned a MS in Education from St. John College in Cleveland in 1972. In addition, Sister Mary did further studies at Catholic University of America, the University of Dayton, St. Mary of the Woods, Terre Haute, Ind. and Kent State University.
In over 57 years of ministry, Sister Mary held a variety of roles. She taught at both St. Charles and St. Luke schools. She served as Director of Curriculum at Millcreek Children's Center. For most of her years in ministry, she was a principal, first at St. Luke, then at St. Patrick for 20 years. She was also the builder (with Sister Jerome Corcoran) and founding principal of Youngstown Community School for 14 years.
After her retirement from Youngstown Community School in 2013, she began another phase of ministry. She volunteered weekly at the St. Vincent de Paul Soup Kitchen and tutored the young people at the Juvenile Justice Center, and in the College Mission Program she began with Sister Jerome with graduates of Youngstown Community School who were studying at YSU and Eastern Gateway Community College.
Sister Mary was active in educational activities. She was a member of the National Catholic Education Association, the Ohio Catholic Education Association, the International Reading Association, the Association for Children with Learning Disabilities, the National Association of Education of Young Children, and the Ohio Citizen's Council.
Sister Mary received the Community Service Award of the Youngstown Area Urban League. She was also a judge for many years at the annual Vindicator Spelling Bee. While she was a principal at St. Patrick, many of the winners of the school Spelling Bee had great success at the Vindicator Spelling Bee. She also served the Ursuline Sisters of Youngstown as a member of the Leadership Team from 1984 to 1990.
Sister Mary leaves her Sisters in community; her sister, Esther (James) Dershaw of Canton; a niece, Mary Ellen Schul of Akron; and two grandnephews, Jacob and Samuel.
She was preceded in death by her parents.
A Mass of Christian Burial will be at the Ursuline Motherhouse, 4250 Shields Road in Canfield on Monday, Oct. 30, 2017, at 5 p.m.
Calling hours will be on today, Oct. 29, from 3:30 to 5:30 p.m. and on Monday, Oct. 30, beginning at 3 p.m. All services will be in the Motherhouse Chapel.
Interment will be at Calvary Cemetery on Tuesday Oct. 31.
Arrangements were made by the Fox Funeral Home, 4700 Market St. Boardman.
Memorial donations can be made to the Ursuline Sisters of Youngstown.
Family and friends may visit www.foxfuneralhome.org to view this obituary and send condolences.
Guestbook Entries
SHE WILL NEVER BE FORGOTTEN
"SISTER DUNN THAUGHT CHILDREN OF THE INTERCITY AND WAS COMMITTED TO WHAT SHE DID . WE LOVED HER FOR THAT. SISTER DUNN WILL LIVE ON IN THE MANY GENERATIONS OF CHILDREN SHE THAUGHT AND PARENTS . WE WILL NEVER FORGET WHO SHE WAS AND WHAT SHE DID FOR THE PEOPLE OF YOUNGSTOWN . TO THE FAMLY AND FRIENDS OF SISTER DUNN WE THE PUBLIC THANK YOU FOR SHARING HER WITH US . SHE WILL NEVER BE FORGOTTEN . RIH SISTER DUNN ."
» DEACON JOSEPH NAPIER SR on November 3, 2017
Sign the Guestbook
---