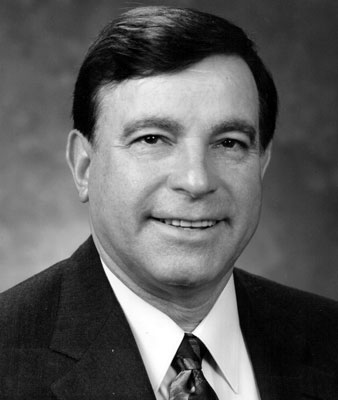 MANUEL ANTHONY 'MIKE' GARCIA
CANFIELD – A Mass of Christian Burial will be held at 10 a.m. on Saturday at St. Christine Church for Manuel Anthony "Mike" Garcia, 87, who passed away peacefully on Saturday, Oct. 7, surrounded by his loving family.
Friends and family may pay their respects from 8:30 to 9:45 a.m. on Saturday, prior to Mass.
Born in Youngstown on Aug. 22, 1930, to James Garcia and Anna (Giordano) Garcia, Mike was a humble, first generation, Italian-Spanish American who grew up on Youngstown's east side.
His sense of humor and wit were evident from a young age. His silly jokes and comical antics were part of his daily routine throughout his 87 years.
He attended Lincoln Grammar School and graduated from East High School in 1948, where he was a member of the debate team, drama club and played center on the varsity football team.
Mike proudly served his country in both the U.S. Navy and the U.S. Army.
He played football at the Great Lakes U.S. Naval Training Center. When his Army Reserve Unit was activated during the Korean War, he was stationed in London. He traveled extensively throughout Europe and spent several weeks in Galicia, Spain with his extended family. There he embraced the Spanish heritage and language of his father. While on leave, he married his high school sweetheart and love of his life, Anna Marie "Ann" Baldelli on Sept. 13, 1952.
He returned home, attended Mount Union College and graduated in 1957. He played football for the Mount Union Purple Raiders and was a member of the Alpha Tau Omega fraternity. During his college years, he and Ann were chosen to live in the residence of Ohio Supreme Court Judge William Hart, while Judge Hart served his term in Columbus.
After securing a position at Austintown Fitch High School in 1957, Mike and his family settled in Canfield and remained there for 52 years. He taught at Austintown Fitch High School for 33 years.
He began his coaching career as a freshman football coach and accepted the head track and field position in 1966. During this time, Mike earned his Master's Degree in Education from Kent State University.
Although Mike had much success with track and field, his greatest notoriety came from his cross country teams and distance runners. He piloted the cross country program in 1968, and from then on, Coach Mike Garcia made history. He won the Ohio "AAA" State Championship in 1971, 1972, and 1975, and finished runner-up in 1970 and 1974. These victories made Mike one of the most winning cross country coaches in the nation. During his tenure at Austintown Fitch, his records were unsurpassed.
His overall combined achievements include 490 total wins, 101 major championships, 42 runner-ups, 20 Steel Valley Conference championships, 11 Sectional and seven district championships. He produced four individual state champions, of whom, one was a three year consecutive state champion and also was the top high school distance runner in the nation. A large number of his athletes went on to be college All-Americans. Mike also introduced the girls cross country program at Austintown Fitch in the 1980s and thoroughly enjoyed their enthusiasm and success. After retiring, Mike was an assistant cross country and track coach at Howland High School for several years.
Mike was personally honored many times over the years for his coaching acumen. He was inducted into the Ohio High School Athletic Association Hall of Fame, Curbstone Coaches Hall of Fame, Fitch High School Hall of Fame and East High School Hall of Fame. He also received the Ohio Association of Track and Cross Country Coaches "Coach of the Year" Award in 1985, and the Longevity Award for coaching 90 plus seasons of track and field and cross country. He was recognized for his accomplishments with articles in "Runner's World," "Track & Field News" and "Boy's Life" magazines. He was a board member of the Ohio High School Athletic Association and is credited with spearheading positive changes in rules that govern cross country and track and field that are still in effect today.
Mike formed the Tag-A-Long Booster Club, which specifically supported Fitch track and cross country and together they fund raised to have the first all-weather track installed in the Valley. He organized distance running camps during the summer which attracted runners from all over. He started The Early Bird Track Meet which later became the Annual Optimist Track Meet, and the Falcon Tri-State Classic Invitational, which was a premier track and field event that showcased the top athletes from Ohio, Pennsylvania and West Virginia. Widely known and respected by his peers, Mike made many positive contributions to the running community and the Austintown community at large.
As a pioneer of the running phenomenon in the Mahoning Valley, Mike's charismatic personality, positive attitude and unfailing determination created the perfect atmosphere that took hold at Fitch and lead to his overwhelming success. He mentored countless athletes, many of them earned college scholarships and fulfilled their life dreams and goals.
Mike's passion and enthusiasm, was greatly influenced early in his career by "The Power of Positive Thinking." He not only used his methods to motivate and encourage his own athletes, but he became a motivational speaker and shared his knowledge to help other athletes succeed. It was his play book for life.
Mike was a charter member of St. Michael Church. He loved the outdoors, his pets and enjoyed vegetable gardening. He spent much of his time after retirement, traveling, reading and enjoying his grandchildren and family.
Mike is survived by his children, James (Barbara) Garcia of Twinsburg, Mary Alice "Mimi" (Dr. James) Kerrigan of Boardman, Suzanne "Suzy" (Morton) Madison of Austin, Texas and his grandchildren, John, Christine and Jimmy Kerrigan, and Alex Madison, all who adored their "Poppy." He also leaves his sister, Edith (Ed) DiGregorio and many loving nieces and nephews.
He was preceded in death by his beloved wife of 64 years, Anna Marie "Ann" (Baldelli) Garcia, and his parents.
In lieu of flowers, the family requests that memorial contributions may be made to Lifebanc, 4775 Richmond, Cleveland, OH 44128 or St. Joseph the Provider School, 1125 Turin St., Youngstown, OH 44510.
Mike's family would like to extend a special thank you to the Reese family and the entire staff at Briarfield Manor for providing a warm and loving home environment, and to the McGuire family and MVI Hospice for their kindness and compassion during Mike's illness.
Visit www.higgins-reardon.com to view this obituary and to send condolences.
Arrangements are by the Higgins-Reardon Funeral Homes, Boardman-Canfield Chapel.
Guestbook Entries
Coach Garcia
"Coach Garcia, influenced my life in so many ways. Often, I find myself thinking about lessens I learned from your father. He was able to bring out the best in so many people. We were so proud to run for coach. To this day, I share stories with my wife and kids about him and our experiences. I want to share a quote that was passed on to me by coach, that I've carried with me for all this time ... "What the mind can conceive and believe, and the heart desire, you can achieve." Norman Vincent Peale "
» Scott Kerr on October 23, 2017
Mr Garcia- Coach /Teacher
"Mr Garcia was not only a gifted coach but an excellent teacher as well. He taught me many things in the classroom as well as behind the wheel. He was my driving instructor and one of the greatest teachers I remember. I remember the pranks he pulled and always the valuable lessons that were taught from them. "
» John Carson Jr on October 18, 2017
Remembering
"I graduated in 1981. He was my driving teacher. He was the only teachers name I remembered he was a great teacher and great person. Fitch will miss him."
» Debbie Spell( Jones) on October 18, 2017
Mr Garcia
"So very sorry for you loss🙏 Coach Garcia was a awesome Coach and Teacher! Remember learning how to drive! Snow day and we were out driving what a caring and Patient man! I was class of 1975 he really made an impression! "
» Maureen Scott-DeSalvo on October 17, 2017
He Caught me
"Mr. Garcia opened a stall in the boys room just after launch. I was in there smoking with two of my friends. He grabbed them and took them to the office. In class a few minutes later I asked him why he didn't take."me. He said, "I didn't see you'. He was that kind of guy. Loved him."
» Robert Bilicki on October 15, 2017
Memories and Sympanies
"Coach Garcia introduced me to the "power of positive thinking" in the early 1970's which help in my 30+ years of marriage and a successful financial career. My deepest symphony to the family members. I am sure you are proud of all lives he touched in a positive way."
» John S.Arditi on October 14, 2017
Sympathies
"Prayers. I know how hard it is to loose both parents so close together. Your mom and dad were wonderful people. My deepest sympathy,"
» Patti Sakoman on October 13, 2017
To Manuel's Family
"I also grew up on Youngstown,s east side and glad to have been a friend of Manuel."
» Bill Simpson on October 11, 2017 on October 12, 2017
Memories
"I have fond memories of Manuel and his cousin Babe acting silly and pulling pranks on one another.May he rest in peace. "
» Michael Tronzo on October 12, 2017
Sign the Guestbook
---