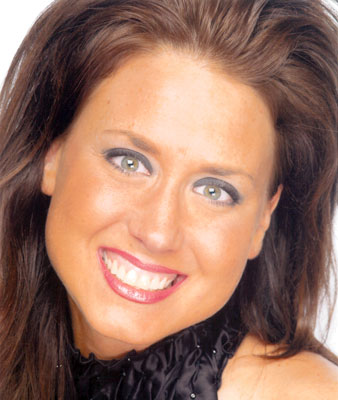 KELLY A. BAILEY
YOUNGSTOWN – There will be a memorial service held at 10 a.m. on Saturday, Oct. 14, 2017, at the Martin Luther Lutheran Church for Kelly A. Bailey, 44, formerly of Las Vegas, who passed away unexpectedly on Oct. 7, 2017.
Kelly was born July 14, 1973, in Youngstown, a daughter of Lawrence Lancy and Sallie Serbati Tomchik.
She was a graduate of Struthers High School.
Kelly was a district manager for BCBG, and also a manager for a number of restaurants in Las Vegas.
She had a love of fashion and enjoyed 80s music.
Kelly will be sadly missed by her family, her mother, Sallie Tomchik of Youngstown; her siblings, David Lancy of Las Vegas, Courtney (James) Lancy-Campana of Lowellville, Casey Lancy of Boardman, and Daniel Lancy of Cleveland; her grandmother, Mary Lancy of Poland; and her dog, Ella Rose.
She also leaves her aunts and uncles, the Lancy, Sheridan and Laurer families; along with numerous cousins; and her best friend, Christine Ciminelli of California.
She was preceded in death by her father, Lawrence Lancy; grandparents Helen and Stephen Serbati; and grandfather John Lancy.
There will be calling hours on Saturday, Oct. 14, 2017, one hour prior to the service, from 9 to 10 a.m., at the Martin Luther Lutheran Church.
Kelly will be laid to rest at Lake Park Cemetery.
In lieu of flowers, memorial contributions may be made to the family to help defray funeral expenses or to the Martin Luther Lutheran Church, 420 Clearmount Drive, Youngstown, OH 44511, in Kelly's memory.
Funeral arrangements are entrusted to the care of the Stewart-Kyle Funeral Home in Hubbard.
Family and friends are invited to visit the funeral home's website at www.stewart-kyle.com to share memories and condolences.
Guestbook Entries
My deepest sympathy
"My family and I are keeping all of you in our prayers during this unimaginably difficult time. Kelly touched so many lives in a beautiful way, and her life will be forever celebrated through those memories. We pray the God brings you comfort and peace. She will be missed by everyone who knew her."
» Susan Piekarski on October 14, 2017
My condolences
"I reached out to Dave the day I realized what had happened. I couldn't make it to the calling hours but wanted your family to know how very sorry I am for your loss. Kelly sounded like was a great person and I wish I could of known her. Your in our thoughts and prayers Lancy family. Mr.& Mrs John M Battaglia Jr and Family"
» John Battaglia on October 14, 2017
Our deepest condolences
"Mary and I are truly saddened to hear of Kelly's passing. She was a beautiful person inside and out. She was a role model to the young ladies at the Agency and many looked up to her and wanted to be like her. She had a flair for fashion and would light up any room she walked into. Kelly was a part of PMTM for many years and will be missed. Joe DePaul & Mary Sklamba PMTM - Akron, Ohio"
» Joe and Mary Pro-Model & Talent on October 12, 2017
Deepest Sympathies
"My heart goes out to her family... the Lancy kids are good kids and I feel for them right now... Many people are thinking of you all during this difficult time!!! We are all so very sorry... "
» StruthersResident on October 12, 2017
My deepest condolences
" Now is the time for Kelly to rest...may the God of all comfort...comfort her family and friends in this time of need..,2 Corinthians 1:3,4"
» KMB on October 12, 2017
In Sympathy
"Sincere condolences to Kelly's family and friends during this profoundly sad time. She was a delightful person and left this world far too soon. "
» Lynn Harmicar Duffey on October 12, 2017
Vibrant Light
"I am privileged to have known Kelly. She was beautiful and vibrant. I am glad I got to see her ladt year when she returned from Vegas. I will never forget her smile and always positive attitude. She was truly one of a kind. So heartbreaking. R.I.P. Kelly "
» Jenna Catrone on October 11, 2017
Sign the Guestbook
---