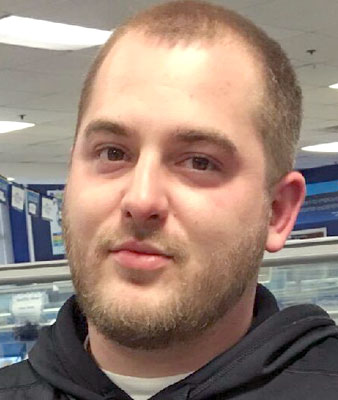 DENNIS B. 'DENNY' LANGE JR
YOUNGSTOWN - Funeral services will be held Friday at noon at Higgins-Reardon Funeral Homes, Austintown Chapel for Dennis B. "Denny" Lange Jr., 27, who passed away Sunday.
Denny was born Oct. 3, 1990, in Youngstown, the son of Dennis B. Lange Sr. and Lisa A. Tuchek.
Denny was a 2009 graduate of Austintown Fitch High School and attended Youngstown State University. He was an account associate with VXI. He enjoyed golfing, video games, and computers.
Denny was very giving and never would ask for anything. He will be deeply missed by all who loved him.
Denny leaves his parents, Lisa (fiancé James Pedicini) Tuchek of Youngstown and Dennis (Susan) Lange of Boardman; a brother, Brian Webber of Girard; a stepbrother, Edward Chambers of Youngstown; a sister, Lily Lange of Boardman; maternal grandfather, Vincent Tuchek Sr. of Youngstown; paternal grandmother, Sandra Lange of Virginia; godparents as well as his aunt and uncle, Nancy and David Mohney of Youngstown; and numerous other aunts, uncles, cousins, and dear friends.
Denny was preceded in death by his maternal grandmother, Kathleen Tuchek and paternal grandfather, Arthur Lange.
Family and friends may call today from 5 to 8 p.m. and Friday from 11 a.m. to noon at the funeral home.
In lieu of flowers, material tributes may take the form of donations in care of the Higgins-Reardon Funeral Homes, Austintown Chapel to assist the family during this difficult time.
Guestbook Entries
Missing my cousin!
"We will miss you so much, Denny. Kevin and I loved getting to catch up with you at holiday gatherings, and I have many good memories of you growing up. I remember you asked me to read a sociology paper you wrote while at YSU, and it was so well-written! By the time I gave you feedback, you said it was too late, but your professor had already given you an A+. (So, I guess you didn't need my help!) :) I'm so sorry we can't make more memories together, but I will always remember your kindness, sense of humor, and intelligence. xo"
» Heidi Pitzer McElwee on October 12, 2017
Sign the Guestbook
---