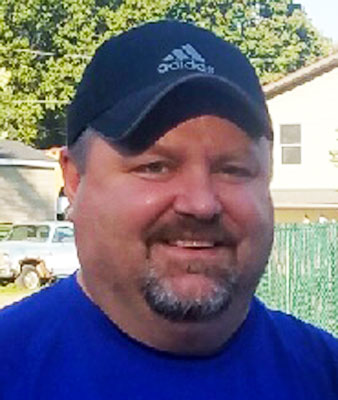 GREGORY P. DICKSON
MCDONALD – Gregory P. Dickson, 44, passed away Friday evening, Nov. 24, 2017, in Detroit.
Gregory was born Jan. 27, 1973, in Warren, to David Dickson and Karen (Datchuk) Clisby.
He was a 1991 graduate of McDonald High School. 
He married Mary (Evans) Dickson, June 27, 1998.
He worked at General Motors as a Team Leader and was a member of UAW No. 1112. He was an avid golfer and enjoyed fishing, hunting, and watching his son participate in sports. Greg loved football and cheering on The Ohio State Buckeyes. 
He leaves to cherish his memory, his wife, Mary and son Gregory of McDonald; his father, David T. (Angela) Dickson of Austintown; his mother, Karen (Rod) Clisby of McDonald, his sister, Tiffany Dickson of Girard; his brother, Ray (Kim) Dickson of McDonald; his stepbrother, Rodney (Cathy) Clisby of West Farmington; his stepsister, Janet (Tim) Keeney of Orwell; his grandparents, William Kramer of Girard and Victoria Datchuk of Niles; his uncle, John Datchuk of Niles; and many nieces and nephews. 
Friends and family may call from 3:30 to 6:30 p.m. on Friday, Dec. 1, at  the Blackstone Funeral Home in Girard. Services will follow at 6:30 p.m.  Come as you are, be comfortable, it is what Greg wanted.
Please visit blackstonefuneralhome.com to send condolences and view this obituary.
Guestbook Entries
Condolences
"To The Dickson Family, I am so sorry to all of you for your loss! Greg was such a nice guy and always smiling. He will always be missed and may you all find peace in your hearts an know he will always be beside u all and forever in your hearts as well. With Great Sympothy, Jessica Turkovic"
» Jessica Turkovic on November 29, 2017
My deepest condolences
"Now is Gregory's time to rest... may the God of all comfort...comfort his family and friends in this time of need...2 Corinthians 1:3,4"
» KMB on November 30, 2017
Sign the Guestbook
---