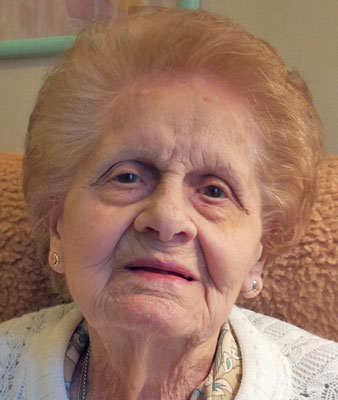 KATHERINE 'KAY' NOVAK
JUPITER, FLA. - Katherine "Kay" Novak, 101, passed away on Saturday, Nov. 11, 2017, at Prosperity Oaks in Palm Beach Gardens, of natural causes.
A resident of Campbell for nearly 90 years, Katherine was born Jan. 19, 1916, in Gary, Ind., the daughter of Paul Skorich and Mary Drvodelic.
She graduated from South High School in Youngstown.
Katherine was a devoted wife, mother, sister and homemaker.
She married her husband, Andrew J. Novak, on Sept. 9, 1933. Andrew, whom she called "Ambro," passed away in 1987 after 54 years of marriage.
Katherine and her husband loved music and dancing and together often graced the floor of the Idora Park ballroom. She was an avid card player and continued to win at cards up until her death. A parishioner and long-time member of the St. John the Baptist Catholic Church, Katherine was also active in the Campbell Senior Citizens. She served her country by working at Youngstown Sheet & Tube during World War II as a crane operator and foreman.
Katherine will be greatly missed by her daughters-in-law, Josephine Novak and JoAnne Novak; her grandchildren, Deborah (Novak) Leo, Russell Novak, Dina (Novak) Ruden, Kimberly Novak and Natalie Novak; three great-grandchildren, Corinne Long, Aaron Kelley and Travis Leo; and one great-great-grandchild, Alexander Kenneth Kelley.
Besides her parents and her husband, Andrew, she was preceded in death by her sons, Melvin Novak and Kenneth Novak. Her brothers, Joe and Fred Skorich; and her sisters, Anne, Mary, Helen and Agnes, are also deceased.
A private family service was observed at St. John's cemetery.
Arrangements were entrusted to the Wasko Funeral Home in Campbell.
Visit www.waskofamily.com to view this obituary and send Katherine's family condolences.
Guestbook Entries
Grandma Kay
"We will miss you grandma. Another angel to watch over us."
» Natalie Novak on November 23, 2017
Kay
"Debbie, Dina, and Russell I am sad for the loss of Kay. I have such warm thoughts of her. She was a spunky woman full of life. What a wonderful life. I am sure you will miss her but she is now back together with so many that were a part of her life. May God bless her and your entire family. With love Danny"
» Danny Terlecki on November 26, 2017
Sign the Guestbook
---