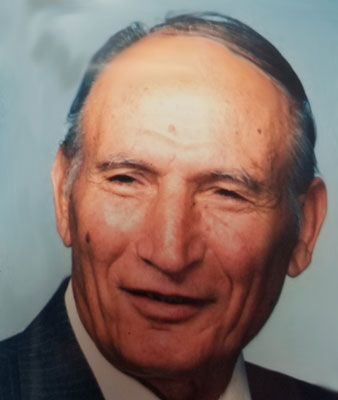 JOSEPH (GIUSEPPE ANTONIO) A. ASTERI SR
AUSTINTOWN – Prayers will be held at 9:30 a.m. on Wednesday at the Higgins-Reardon Funeral Homes, Austintown Chapel, followed by a Mass of Christian Burial at 10 a.m. at St. Joseph Church, 4545 New Road in Austintown, for Joseph (Giuseppe Antonio) A. Asteri Sr. who went home to be with the Lord on Sunday afternoon at Austinwood Nursing Facility.
Joseph was born on Feb. 26, 1920, in Campoli Reggio Calabria Italy, a son of the late Ilario Asteri and Maria Giuseppa Vallelonga.
Joseph served in the Italian Army during World War II. He was captured in North Africa and remained a prisoner of war for seven years. When he finally returned to his home in Italy he married the love of his life, Genni Chiera.
He came to the United States in 1949 and was proud to receive his U.S. Citizenship in 1958. He loved American History and enjoyed traveling to historical sites. Joseph was a hard worker, all his life. He retired from US Steel after 30 years and from the DeBartolo Corp after 17 years. He worked as a landscaper for many years, and loved gardening and making home made wine.
He was a devoted Catholic, and always attended church as he belongs to St. Anthony's and then St. Joseph's. He was a wonderful and devoted husband, father and grandfather. The most important thing in his life was his family.
He leaves behind his loving wife of 71 years, Genni Asteri, whom he married on Sept. 26, 1946; a son, Joseph (Kathleen) Asteri Jr. of Austintown; a daughter, Mary Theresa (Paul) Martin, from Niles; a grandson, Scott (Christy) Martin of Mich.; and a great granddaughter, Meredith Martin.
Besides his parents, Joseph was preceded in death by a brother, Pietro Asteri.
Family and friends may call today, Nov. 14, 2017, from 5 to 7 p.m. at the Higgins-Reardon Funeral Homes, Austintown Chapel. Entombment will take place at Resurrection Cemetery.
Guestbook Entries
A Gentle Man
"We were so blessed to have Mr. Asteri in our lives for so long. I met him as a teenager, when I met his lovely daughter. Mr. Asteri was such a kind, gentle man, but not to fool anyone he had a joke at the ready to tease his beloved Genni at a moments notice. I had always had such great admiration and affection for this man. May his family remember all of the good times as they reflect on their lives together. Sending prayers and much love to the entire family."
» Sandi DeZee on November 18, 2017
My deepest condolences
"Now is Mr.Asteri Sr's time to rest...may the God of all comfort...comfort his family and friends in this time of need...2 Corinthians 1:3,4"
» KMB on November 16, 2017
Sympathy
"So sorry for your loss. Our thoughts and prayers are with you during this difficult time. May you find comfort in your memories. God bless. "
» Jim and Darsita Weber on November 14, 2017
Sign the Guestbook
---