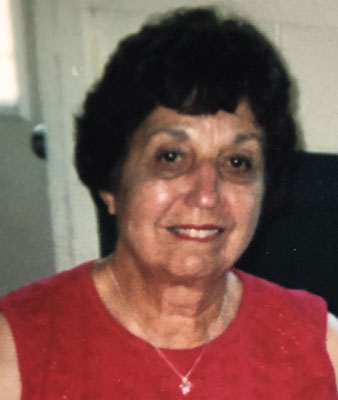 LOUISE (ANGELILLO) RITTER
CANFIELD – Louise (Angelillo) Ritter, 85, passed away unexpectedly on Nov. 10, 2017, at her home.
Born Jan. 25, 1932, Louise lived in the Youngstown area her entire life.
Louise was proud of being raised on Youngstown's east side, graduating from East High School in 1950. She especially enjoyed working in the family business, Angelillo & Son's Florist on Himrod Avenue. In addition, Louise enjoyed working with her niece, Barbara Morgante, at the office of Dr. Tamboli. Barb was a daughter to her.
Louise also enjoyed exercising at the YMCA and had been a member of numerous bowling leagues over the years. However, Louise mostly enjoyed spending time with her family, including her eight grandchildren and two great-grandchildren. Sunday dinners were never missed. Louise was a member of St. Dominic's Church.
Louise was preceded in death by her father, Louis; mother Immacolata; her husband, William; brother Joseph; and sister Margaret Lissi.
Louise leaves behind her sons, Bill and wife Chrys, Mike and wife Jennifer, and Jim and wife Mary; granddaughters Samantha and husband Phillip Detec, Chrystin and husband Jonathan Rickert, Julia, Lynnie, Jamison, and Madison; grandsons Anthony and Daniel; and great-grandchildren PJ and Mia.
Calling hours will be on Sunday, Nov. 12, from 3 to 6 p.m. at the Higgins-Reardon Funeral Homes, Boardman-Canfield Chapel.
A prayer service will be held at 9:15 a.m. on Monday at the funeral home followed, by a Mass of Christian Burial at 10 a.m. at St. Dominic's Church in Youngstown.
The family requests contributions to be made to Angels for Animals, 4750 West South Range Road, Canfield, OH 44406, in memory of Louise.
Please visit www.higgins-reardon.com to view this obituary and send condolences.
Guestbook Entries
Ritter Family
"So sorry for your loss. She was a special woman liked by all. Will miss her very much. "
» Norma Klein on November 11, 2017
Mrs Ritter
"Bull, Chrys & family - I am so very sorry for your loss. Will keep all of you in my thoughts and prayers"
» Sue Monaco on November 11, 2017
Sign the Guestbook
---