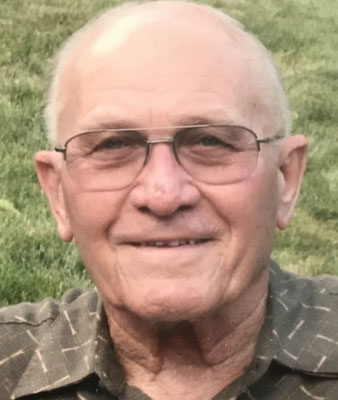 JOHN J. ZITKOVIC
FINDLAY – John J. Zitkovic, 92, passed away at 8:55 p.m. on Wednesday, Oct. 25, 2017, at Brookdale Senior Living.
John was born Nov. 2, 1924, to the late Stephen and Barbara (Terihay) Zitkovic in Youngstown.
John was married to Charlotte Olesky on July 8, 1950, and she survives.
Also surviving are his children, Charlene (Steven) Schultheis of Dublin, John (Elizabeth) Zitkovic of Findlay, Patricia (Stephen) Robison of Phoenix, Bruce (Julia) Zitkovic of Findlay and Duane (Andrea Evans) Zitkovic of Findlay; grandchildren Stephen (Amy) Zitkovic, Leigh Adams, Zachary Zitkovic and Hollyann Zitkovic; three stepgrandchildren, Brent, Joel and Paul Robison; a brother, Thomas (Mary Ann) Zitkovic of Florida; and many nieces and nephews and great-nieces and great-nephews.
Preceding him in death were his granddaughter, Magdalene Zitkovic and his siblings, Michael, Charles, Frank, George, Betty Horvath, Ann Wallingford, and Mary Hamrock.
John studied Electrical Engineering at Youngstown College. He served in the U.S. Army during World War II and the U.S. Air Force during the Korean conflict. He retired from RCA of Findlay in 1989.
John was a member of St. Michael the Archangel Catholic Church. He was a life member of the Knights of Columbus and a member of the American Legion. He loved golfing and woodworking. He loved to go ballroom dancing with his wife, Charlotte, and loved polka music and enjoyed filling the family home with the sounds of polka.
Visitation was held from 4 to 7 p.m. on Friday, Nov. 10, 2017, at the Kirkpatrick-Behnke Funeral Home, 500 Lima Ave. in Findlay. A Mass of Christian Burial will be celebrated at 10 a.m., today, Nov. 11, 2017, at St. Michael the Archangel Catholic Church, 617 W. Main Cross St. in Findlay. Burial will follow at St. Michael Cemetery with full Air Force Military Honors conducted by the Wright-Patterson Air Force Base.
Memorials in John's honor can be made to Columbus Honor Flight, PO Box 12036, Columbus, OH 43212, www.honorflightcolumbus.org; or Heartland Hospice, 907 W State St. Ste A, Fremont, OH 43420.
Please visit www.kirkpatrickbehnke.com where online condolences can be shared with the family.
Guestbook Entries
« Be the first to sign JOHN J. ZITKOVIC guestbook.
---