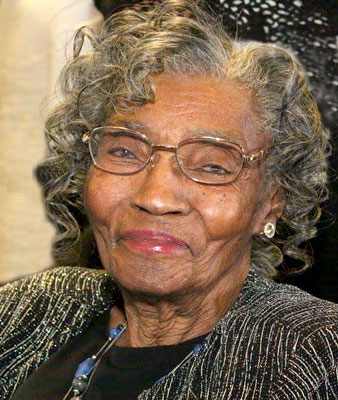 RUBY LEE ALLEN GRAVES
SACRAMENTO, CALIF. - Ruby Lee Allen Graves was the seventh of eight children born to Stub Allen and Mattie Munford in Dublin, Ga. on Feb. 17, 1915.
At an early age, she had a love for reading and was intrigued by world events and politics.
Ruby relocated to Youngstown in 1937.
Ruby was employed as a housekeeper at Pick Ohio Hotel.
After retiring, Ruby became a pillar in her community. Ruby was affectionately called "Mua." Ruby would lend a helping hand to anyone in need. She loved kids. Ruby's motto was "well they can't help it."
In 1974, she moved to Sacramento.
Ruby enjoyed spending quality time with family, friends, playing bingo and going to the casino. However, her true and endless passion was nurturing her children, grandchildren, and great-grandchildren. Ruby reared her two great-great-nieces, Malisa and Dalena Howard.
Ruby had a heart of gold and a sweet, inviting spirit. Ruby's desire was for her old days to be her best days. God granted her favor until May 11, 2017, when she took off the garment of sickness and the cares of this world and traded it in for His crown of Glory.
Ruby was preceded in death by her parents; seven siblings; and three sons and a daughter, Nathaniel, Clyde, Curtis, and Helen.
Ruby leaves nine to cherish her legacy, Loron Tucker (Lynn) of Milledgeville, Ga., Mary Thomas, Johnny Cummings (Barbara), Elliot Cummings (Barbara), and Ronald Cummings, all Sacramento, James Graves (Eunice) of Elk Grove, Calif., Ivory Cummings in Williams, Calif., Robb Cummings of Reno, Nev., and Alberta Cummings of Hawthorne, Calif.; 70 grandchildren; 196 great-grandchildren; 163 great-great-grandchildren; seven great-great-great-grandchildren; loving nieces and nephews; and friend Pauline West.
Ruby loved the Lord. She raised her children and grandchildren in church.
Ruby was a member at St. Paul Church for many years. Although she never changed her membership, she continued her fellowship at the Antioch Church with her son and daughter-in-law.
Visitation for Ruby was held yesterday, Thursday, from 4 to 7 p.m. at the Morgan Jones Funeral Home in Sacramento.
Funeral services will be held today, Friday, May 19, at 11 a.m. at the Antioch Progressive Church, 7650 Amherst St. in Sacramento.
Guestbook Entries
FAMILY
"WE ARE SO SORRY TO HEAR ABOUT MRS RUBY, YOU ALL HAVE OUR PRAYERS AND LOVE."
» PANKEY-WALLACE on May 20, 2017
The Angel
"Today's Celebration of Mia was absolutely Beautiful. She looked like an Angel sleeping. Condolence to the family. "
» Shirley Green on May 19, 2017
Condolences
"Cousin Ruby will truly be missed, we are thankful we got to spend time with her, she was a true blessing.... John and Martel allen"
» Martel allen on May 19, 2017
Sign the Guestbook
---