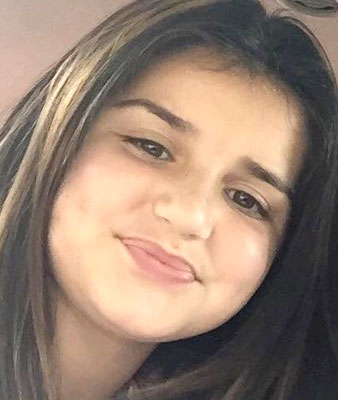 ALIVIA ANN 'LIVI' WATSON
SUMMERVILLE, S.C. - Alivia Ann "Livi" Watson, 9, earned her angelic wings on Sunday, March 26, 2017, in her home state of South Carolina.
Alivia was born on May 19, 2007, in Youngstown, the daughter of Jolie (Scanlon) Tatar and Michael Watson.
Alivia was a fourth grade student at Newington Elementary in Summerville. Alivia was a great student who looked forward to attending school each day and always wanting to surprise her teachers and friends with homemade treats and gifts.
One of the things Alivia loved most was animals, any and every kind. From dogs to turtles to hamsters and everything in between, she gave them a home and she would always beg for "a new pet." Livi also loved being outdoors and playing with her siblings and friends. She loved bike riding, swimming and "hunting for shark teeth" with her brother, Jacob. If she wasn't outside playing, Alivia could be found in her kitchen cooking and baking for family and friends.
Even though she was only 9 years old, Alivia had an old soul. She displayed the most genuine, loving and giving qualities, always making sure everyone else was taken care of. From making homemade treats for school to making dinner for her family, she was always doing for others. Her beautiful infectious smile and loving personality warmed the hearts of everyone she met.
Alivia was preceded in death by her grandfather, John Scanlon and her beloved dog, Macy.
Alivia was blessed with the love of two families, two men who she lovingly called "Dad," who both proudly called her their daughter. And brothers and sisters who she shared a bond with that was stronger than blood, a bond of love.
She is survived by her mother, Jolie (Scanlon) Tatar and father David Tatar of Summerville; her father, Michael Watson of Niles; and grandparents Shirley Scanlon of Poland, Mickey and Robert Watson of Brookfield, and Karin and Mike Tatar of Struthers. She also leaves behind her brothers and sisters, who she adored and loved, Mikey Tatar, Kristin Tatar, Matthew Tatar, Jacob Tatar, all of Summerville, and Ashley Watson and Anthony Watson of Niles. She also leaves her uncles and aunts, Jimmy Scanlon (Tony Mixon) of Charleston, S.C., Joseph Rossi (Marcie) of Canfield, Louis Rossi (Jody) of Poland, Kelly Watson (Gia) of Niles, and Lori Ferreri (Rocco) of Austintown; as well as numerous cousins and friends.
Family and friends are invited to celebrate the life of this beautiful soul on Sunday, April 2, 2017, from 1 to 4 p.m., followed by a 4 p.m. funeral service at Rossi Brothers & Lellio Funeral Home, 4442 South Ave. in Boardman, with Pastor Joseph L. Congemi celebrating.
A memorial service to honor and celebrate Alivia will be held in Summerville at a future date.
Family and friends may visit the Book of Memories at www.rossifunerals.com to view this tribute and send condolences to Alivia's family.
Guestbook Entries
such sorrow....
"My deepest sympathy to all of you...such a tragedy and loss...another angel gets her wings..."
» JOANN(CONGEMI) MELNIK on March 31, 2017
My deepest sympathies
"My deepest sympathies & prayers for all of her loving family, your angel requires no additional prayers, she is in Heaven."
» Marianne Parry on April 5, 2017
My deepest sympathy!
"My deepest sympathy to all of you! I will keep you all in my prayers! My heart just breaks for such a Tragic loss!"
» Arlene Clark on April 2, 2017
Alivia
"she was filled with joy and smiles she was my bestfriend at newington she always make sure i was always happy"
» Savanna on May 5, 2017
Alivia
"she was filled with smiles and she alwayts made sure i was happy i was her friend at newington her teacher was ms.carmean and she loved everyone she met"
» Savanna on May 5, 2017
Alivia
"I'm so sorry you lost her she had so much to live for fly high livi"
» Joslynn on June 9, 2017
Living for livi
"We love you livi _alaura "
» Alaurag on March 1, 2018
A year
"its been a year without u livi :3 we all miss u -Vanna"
» Savanna on April 30, 2018
We are all here
"I hope she is free and living her ok life in heaven in sooo sorry um ten."
» Baylee on September 23, 2018
Sign the Guestbook
---