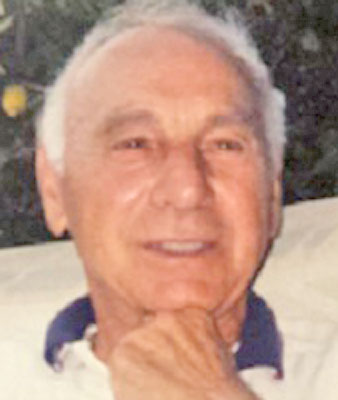 THOMAS A. CAMPANA
KENT – Thomas A. Campana, 93, passed away Wednesday, March 15, 2017.
Born on April 20, 1923, he was the son of Andrew (Condito) and Angela (Carano) Campana.
Tom met Lois Talbott in high school and married her on Feb. 8, 1947.
Tom was born and raised in Hubbard, one of nine children. He left high school early to enlist in 1942 and served our country in the U.S. Navy and was honorably discharged in 1946. He was a gunnery specialist on an LST and served in the Atlantic and Pacific campaigns.
A member of the greatest generation, he not only experienced war first hand but also had five brothers who served as well. He never wanted to talk about his service and he never considered himself a hero, just an American doing what was necessary.
Using the GI Bill, in 1946 he attended Youngstown State University, where he excelled on the football field. In 1950, he earned a degree in Education and his high school diploma at the same time.
He began his teaching and coaching career in Youngstown, then to Texas, back to Youngstown and then to Ravenna, all while working on his Master's degree in Education Administration, which he received from Kent State University.
He spent a year in Dover, Ohio, as a principal and decided that he liked the classroom and football field better. He was hired in 1958 at Kent Roosevelt and worked there until his retirement in 1984 as a history and civics teacher, coach and then Athletic Director.
He worked tirelessly to bring as many sports as possible for boys and girls to the Kent School District. He loved coaching and teaching young people to excel not just in sport but in life. He mentored so many young people and truly enjoyed their successes. If they succeeded, then he succeeded.
Tom was inducted into the Ohio State High School Coaches Hall of Fame and the Ohio State Athletic Directors Hall of Fame. He was in the first class of Kent Roosevelt High School Hall of Fame.
After retirement, Tom and Lois traveled the country to sightsee and golf. They were able to see many things that had been put off while raising their family. He even took up skiing for a time and took a number of skiing vacations with friends.
Even as his health declined and his eyesight diminished, he never lost his love of sports and continued to watch football, baseball, college basketball and golf when he could.
Tom is survived by his five children, Tom (Marty) of Dublin, Tim (Janet) of Milan, Laurie (Tim) Fisher of Omro, Wis., Mark (Faye) of Springboro, and Matt (Lynda) of Kent. He is further survived by 10 grandchildren, Mike, Steve, Christy, Dan, Stephanie, Tony, Nikki, Alex, Owen and Reese; five great-grandchildren, Tommy, Kara, Eva, Eli and Teagan; two sisters, Norma Clemente and Mary Ellen Hoolihan; and many nieces and nephews.
He was preceded in death by his loving wife, Lois, in 2005; his parents; one sister, Carmen; and five brothers, John, Jerome, George, Ralph and Al.
The family would like to thank Altercare of Stow and their staff and doctors for the care and kindness given to Dad.
There will be a funeral Mass at noon on Wednesday, March 22, at St. Patrick Catholic Church in Kent. A celebration of life gathering will be held from 1:30 to 4:30 p.m. on Wednesday, March 22, at the The Overlook, 1519 Overlook Road in Kent (Twin Lakes).
A private family burial service will be at Standing Rock Cemetery.
In lieu of flowers, donations may be made to the Lois Campana Nursing Scholarship at Kent Roosevelt High School.
"We thank the Lord for the gift of this extraordinary man who was a devoted husband and loving father and mentor to so many."
Guestbook Entries
Condolences & Thank You
"To the entire Campana family, our condolences and a thank you for sharing a great friend."
» Jack & Paulette Marsh on March 20, 2017
Coach/Mentor
"A great coach and leadership mentor. You will be remembered and missed."
» Mike Drennan on March 19, 2017
personal hero
"a personal hero of mine. great man, great leader, great friend."
» John Keegan on March 20, 2017
Sign the Guestbook
---