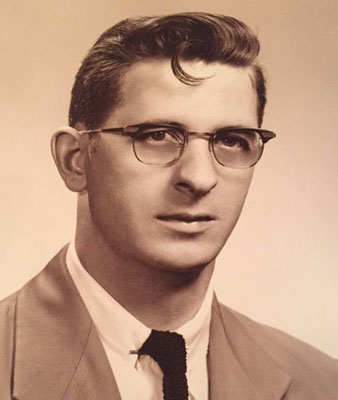 DWIGHT LLOYD DEPP
POLAND – Dwight Lloyd Depp, 84, went to be with his Lord on Saturday, June 17, 2017, following a lengthy illness, with his wife by his side.
He was born July 15, 1932, the son of William and Martha (Palmer) Depp in Frostburg, Pa.
After graduating from Punxsutawney High School, Mr. Depp came to Youngstown with thirty-two dollars in his pocket. He worked in the steel mill and drove semi-trucks. It was here he met and married the love of his life, Joan Smith Depp, whom he married on July 5, 1952. They raised five children, Keith Depp, Robin (David) Underwood, Jeffrey (Theresa) Depp, Douglas Depp and Randy Depp.
Mr. Depp was the owner of Dwight Depp Home Services, providing residential construction services in the Youngstown area. He was a member of the Masonic Lodge in Poland and the Poland Church of Christ. When he wanted to relax, Mr. Depp could be found at Bob Evans enjoying a cup of coffee. Mr. Depp loved family gatherings, especially Thanksgiving, when all the family was in town including his grandchildren, Tabitha (Steve) Nelson, Jason (Nikki), Joshua (Kiki) Underwood, Jeremy (Michelle) Underwood, Ryan, Adam, Kristen, Allison, Ethan and Andrew. More recent years included his four great-grandchildren.
Mr. Depp was preceded in death by his parents and seven of his siblings.
He will be greatly missed.
Family and friends may visit at the Cunningham Becker Funeral Home, Poland Chapel on Tuesday, June 20, from 5 to 6:45 p.m., with a funeral service to follow at 7 p.m.
Mr. Depp will be laid to rest at St. John's Church Cemeter in, Grange, Pa. at a future date.
The family would like to thank Mary from First Light and the staff from Ohio Living Hospice for the care he received during his illness.
In lieu of flowers, the family requests donations to be made to Ohio Living Home Health and Hospice, 6715 Tippecanoe Road, Canfield, OH 44406.
Please visit www.beckerobits.com where condolences may be sent.
Guestbook Entries
« Be the first to sign DWIGHT LLOYD DEPP guestbook.
---