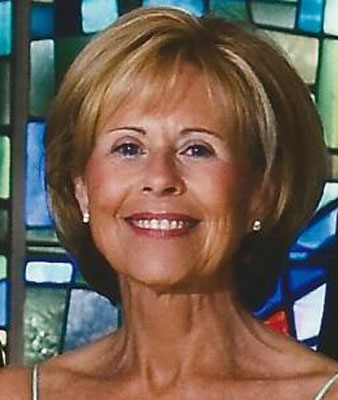 NORMA J. ZELINSKY ALEXANDER
YOUNGSTOWN – A Mass of Christian Burial will be at 11 a.m. Wednesday at St. Christine Church, celebrated by the Rev. John Keehner for Norma J. Zelinsky Alexander, 69, who passed away Friday morning at her residence in Youngstown.
Norma was born on Oct. 24, 1947, in Youngstown, a daughter of John and Ann Resatar Zelinsky.
She graduated from Ursuline High School in 1965, and was a lifelong area resident.
Norma worked at St. Elizabeth's Hospital, where she met the love of her life, Dr. Louis P. Alexander. They were married on July 4, 1970 at Our Lady of Lebanon Shrine. He passed after 38 years of marriage on Feb. 6, 2008.
Norma was a devoted wife and mother and actively volunteered for many organizations. She graciously opened her home and her cooking to friends and family and will be remembered as a mother to everyone. After raising her children, Norma returned to the work force as a clerk for the Mahoning County Board of Elections.
She leaves to cherish her memory, her four sons, Kelly (Theresa), Louis Jr. (Marie), Michael (Gina), and Joseph (Nicole) Alexander; grandchildren James Jude, Sean Louis, Gianna Elizabeth, Sadie Marie, Michael Louis, Ava Elizabeth, and Joseph Louis Alexander; sister Paula Dellick of Boardman; sisters-in-law Elizabeth Joyce, Marion (Bob) Nemer and Carol Desmond; several nieces and nephews; and many lifelong friends whom Norma considered to be like family.
Besides her husband, Norma was preceded in death by her parents; her brother, John Zelinsky; her father-in-law and mother-in-law, Kelly and Mae Essad Alexander; brothers-in-law Judge Martin P. Joyce and John Desmond; and nephew John Zelinsky.
Calling hours for Norma will be held Tuesday evening from 4 to 7 p.m. at the Fox Funeral Home at 4700 Market St. in Boardman and Wednesday from 10 to 11 a.m. at St. Christine Church, 3165 S. Schenely Ave., Youngstown, OH 44511.
Norma's family requests that memorial tributes be given in Norma's name to St. Jude Children's Hospital, 505 N. Parkway, Memphis, TN 38105; or The Fish Samaritan House, 17 Kenmore Ave., Youngstown, OH 44507.
Family and friends may visit www.foxfuneralhome.org to view this obituary and send condolences.
Guestbook Entries
Deepest Sympathy
"Sending my deepest condolences, to the entire family. Norma was one of the nicest person I've ever know. I will miss her happy smile each time we greeted each other. May her memory be eternal. Unfortunately, I am out of town and cannot attend the funeral. My thoughts and prayers are with your entire family, may she Rest In Peace with your dear father. 🙏"
» Yvonne Joseph-Marzano on July 19, 2017
Prayers
"Joe and family, please accept my deepest sympathies during this difficult time. May the Lord Bless you and comfort you so that you may find peace knowing your mom is smiling down on all of you with all of her love."
» Kerry Neely on July 18, 2017
With Deepest Sympathy
"I am so sorry for your loss - I loved your mom and dad, they were always so kind and like family. May God Bless You and give you strength. Diane"
» Diane Ranalli Beshara on July 18, 2017
Loss
"We lost a wonderful neighbor and a dear friend! You will be deeply missed! Our hearts break for your four amazing sons and those grand babies who lit up your life after loosing Lou, your soulmate who Hod has joined together again!"
» Ruth Nabb on July 17, 2017
Sympathy
"So very sorry to hear of the loss of your Mom. Bill and I are thinking of you and praying for strength during this very difficult time. May our Lord and savior be with you and your your family. It's never easy to lose a parent, but know she is home now and you all will be reunited and be together again for all eternity. "
» Bill and Karen French on July 17, 2017
My prayers are with your family
"I am a neighbor from around the corner but Norma was always friendly and sweet and she will be sadly missed. She was a beautiful woman. "
» Marianne Bernard on July 17, 2017
My God in Heaven
"Such a Beautiful Lady with So Much to Live For: I am So sorry to Mrs. Dellick and to Norma's sons and their children for the loss of Mrs. Alexander. My prayers go out to all of you at this time and May the Good Lord be with You. Blessings, "
» Karen Tyndall on July 17, 2017
Sign the Guestbook
---