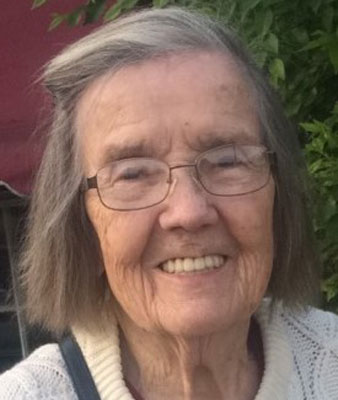 NATALIE A. LAMARCHE HUGHES
AVON – Natalie A. LaMarche Hughes was born in Marion, on Sept. 15, 1923. Mrs. Hughes left this life on July 12, at her home, St. Mary of the Woods in Avon. She was the daughter of Carl F. LaMarche and Mary Faye Huber LaMarche.
Natalie was the widow of the late Martin J. Hughes, of Youngstown and the beloved mother of Carl F. (Sara E. Ballinger), Martin J. III (Sara M. "Sally" McNamara) and the late Paul F. (Robin L. Miller).
She is survived by her two sons and by grandchildren John L., Makéla S., Patrick C., Timothy F. and Elizabeth F. Hughes.
She was predeceased by her siblings, Charles Richard LaMarche, Marian F. LaMarche, and Carolyn (Edward A.) Mantey.
Natalie graduated from St. Mary Elementary School in Marion, from Georgetown Visitation Convent High School in Washington, D.C., and, after attending St. Mary's College in Notre Dame, Ind., graduated from the National College of Education in Evanston, Ill. She also studied in graduate school at The Catholic University of America in Washington, D.C.
Natalie served as an enthusiastic and dedicated grade school teacher at McKinley and Hayes Schools, Lakewood, North Muskegon Public School in North Muskegon, Mich., Fox Point School in Fox Point, Wis. and Fernway and Ludlow Schools in Shaker Heights. For her entire life, she saved the picture of every student she ever taught, and kept in contact with many of them.
Natalie was a member of the Board of Revision of Cuyahoga County, representing Auditor Tim McCormack. She was a member of the board of directors of The Fahey Banking Company and United Telephone Credit Union.
Martin Hughes proposed to his beloved Natalie at the Our Lady of the Sorrows in Bellevue. The location of the proposal was a testament to her deep and abiding Catholic faith.
Natalie always requested that there be only three red roses at her funeral, as they would symbolize the groups of three that defined her life, the Father, Son, and Holy Spirit; Jesus, Mary and Joseph; and Carl, Martin, and Paul.
In the course of a long life rich in joy and challenge, Natalie Hughes unfailingly exhibited the bright spirit and loving heart of a woman convinced of her sure connection to her God and her beloved family. The arrival of Natalie's three sons was what she believed to be her greatest blessing. She was a rock during the course of the long, debilitating illness of her son Paul, who died on March 22, 2016.
Born and married into the glaring worlds of wealth and political power, Natalie chose instead to find joy serving those in the shadows, those of God's children who Natalie believed she had been given the great opportunity to serve through the seven corporal works of mercy. By her own hand, she fed the hungry, gave drink to the thirsty, sheltered the homeless, visited the sick, went into prison to comfort the imprisoned, buried the dead, and gave limitlessly to help the poor.
Facing her own mortality, among the final words Natalie was able to speak were, "What can I do today to help someone while I still have time?"
Friends may pay their respects Monday, July 17, 2017, from 4 to 7 p.m. and Tuesday from noon to 1 p.m. at St. Mary of the Woods Chapel, 35755 Detroit Road, Avon, OH 44011.
A funeral Mass will be held Tuesday, July 18, 2017, at 1 p.m. at St. Mary of the Woods Chapel.
Burial will take place Wednesday, July 19, 2017, 11 a.m. at the Huber plot in St. Mary Cemetery, 763 Delaware Ave. in Marion, OH 43302.
In lieu of flowers, please consider a donation to the National Multiple Sclerosis Society, St. Mary Grade School in Marion or a charity of your choice.
www.mcgorray-hanna.com
Guestbook Entries
NLU Alumni
"What a beautiful announcement of Ms. Natalie life! it brought to mind, Let the life I live speak for me... I didn't know her,but...her life sounds amazing! My condolence to the family!"
» Mary Jones on August 4, 2017
Condolence
"Carl, I am sorry for your loss. Time flies by so fast that we all need to slow down and enjoy the beauty that God has provided in this world while we can. I hope you are well and maybe our paths will cross one day."
» Eileen Haffey Griffin on July 20, 2017
Sign the Guestbook
---