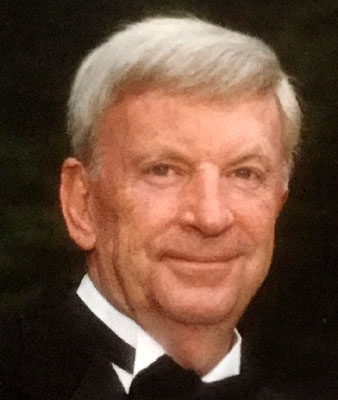 JAMES E. MAUGHAN
HUBBARD - There will be a Mass of Christian Burial at 7 p.m. on Tuesday, Feb. 28, 2017, at St. Patrick Roman Catholic Church in Hubbard with the Rev. Michael Swierz officiating for James E. Maughan, 74, who passed away unexpectedly on Thursday, Feb. 23, 2017, at home.
"Jim" was born June 18, 1942, in Youngstown, a son of Thomas E. and Eleanor M. Dwyer Maughan, and grew up in Hubbard.
He was a 1960 graduate of Ursuline High School, where he played varsity football and was named to the 1959 Vindicator All-City squad. Jim earned a football scholarship to the University of Iowa and was a member of the 1960 Hawkeyes team that became co-Big 10 Conference champions.
Following a break from his studies that included his marriage to his college sweetheart, Deborah J. Sweet on Sept. 22, 1962, Jim earned a B.S. degree from the University of Iowa in 1966.
He later continued his studies in Education at Youngstown State University.
After his years in Iowa, Jim returned to Youngstown, accepting a position as a teacher at his alma mater, Ursuline High School in 1966, and taught for 44 years before retiring in 2011. During his tenure at Ursuline, Jim held additional positions as athletic director, head football coach, golf coach, and wrestling coach, among others.
He was a member of St. Patrick Roman Catholic Church, the Ancient Order of Hibernians (AOH), the Ursuline Athletic Booster Club, and various local golf leagues.
Jim was a loyal and generous friend to many and was known for his dry humor and his selfless efforts to help countless students achieve success in high school and obtain scholarship aid for college.
Jim will be sadly missed by his family, his wife of 54 years, Debbie; his children, Shannon E. (James) Stevenson of Pittsburgh, Erin M. Maughan of Scottsdale, Ariz., and Eric E. (Monica) Maughan of Pittsburgh; and two grandchildren, Morgan and Evan Maughan.
He also leaves his brother, John F. (Heather) Maughan of Kailua, Hawaii; and his sister, M.B. Maughan (Michael Leahy) of Falmouth, Mass.
His parents preceded him in death.
There will be calling hours at St. Patrick Roman Catholic Church in Hubbard on Monday, Feb. 27, 2017, from 4 to 7 p.m. and on Tuesday, Feb. 28, 2017, from 5 to 7 p.m., prior to the Mass.
Jim will be laid to rest at Hubbard Union Cemetery.
Memorial contributions may be made to Ursuline High School Scholarship Fund, 750 Wick Ave., Youngstown, OH 44505.
Funeral arrangements are entrusted to the care of Stewart-Kyle Funeral Home.
Family and friends are invited to visit the funeral home's website at www.stewart-kyle.com to share memories and condolences.
Guestbook Entries
My sympathy
"My sympathy and prayers to the family. I enjoyed being on the UHS faculty with Jim. He had a wonderful way of bringing humor to the day. Sr. Marlene LoGrasso, OSU"
» Sr. Marlene LoGrasso, OSU on February 26, 2017
A Great Man
"You were so much more than the AD and government teacher. You were a mentor, coach, advocate, father, teacher, friend, and motivating force. Somehow you always came thru with that gruff ol voice and said exactly what I needed to hear "the truth" at times when self doubt was consuming me. Your life lessons and true heart had a major impact on me and I will miss seeing you at Ursuline events and having our impromptu deep conversations that were funny as heck and yet life changing, Grizz had a knack for making you look at your situation from a different perspective and keeping you in grounded in reality. My deepest condolences to Mrs Maughan and the rest of the whole family. Good bless you all."
» Keland Logan on February 28, 2017
Retired Ursuline grad living in North Carolina
"My condolences to Jim's family - his wife, children and brother John who was in my class at UHS. I was a fan of Jim in many ways - as a fullback, teacher, and coach at Ursuline; as a part-timer at Commercial and lately as a starter at the golf course. I am very sorry for your loss."
» Jack Savage on February 26, 2017
Choose Life!!! He did!
"Simply want to offer my condolences to the family! Coach, teacher, mentor, he was all of these to me and so many. Made it fun while setting high expectations for us. Certainly one of those leaders who influenced lives for good. Thank you for sharing g him with us. 1968-1972 "
» Guy DiPasqua on February 26, 2017
Deepest Sympathy
"The Davolio family extends our deepest Sympathy to the Maughan family. May Mr. Maughan Rest In Peace."
» Charlotte& Don Davolio on February 26, 2017
Memories of a former UHS faculty colleague
"My deepest sympathies to Debbie and the Maughn children and family. I served with Jim at UHS for many years. His keen sense of humor helped bring many laughs in the faculty lounge on the darkest of rainy days. Godspeed Jim, you are missed already."
» David Helsel on February 26, 2017
Sympathies
"My deepest condolences. Thank you for touching so many lives, Mr. Maughan. From a former student. "
» Elisa Celio on February 26, 2017
Rest in Peace
"We are so sorry for your loss. God bless, The Welsh Family"
» Jean (Welsh) Carr on February 26, 2017
from pw colleague and ND alum
"Dear Shannon--my condolences to you. I can see where you got your rootedness in part. Your father must've been very proud of you. Your great cheer and humor is something that graced his life, no doubt. Cherish the good memories of him. Therein is one form of afterlife. michael"
» michael coffey on March 7, 2017
All about Family
"My deepest condolences to go out to Coach, Mrs. Maughan and family... He will be truly missed by many of his former players... "
» Alfred Mohammed on February 27, 2017
Sign the Guestbook
---