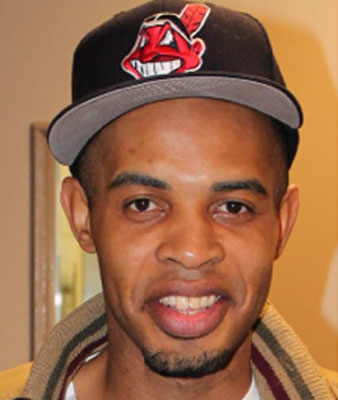 MELVIN EDWARD MILLER III
YOUNGSTOWN — Melvin Edward Miller III, 35, passed away Nov. 29, 2017, at home.
He was welcomed into the world with love on Oct. 3, 1981, to Melvin Jr. and Traci (Ash) Miller.
He was a 2000 graduate of Ursuline High School, and a member of St. James Church.
He was a blogger, writer, author and motivational speaker with five published books, and was working on his next publication. He wrote and spoke from his heart, presenting poetry in most of his books. He was an inspiring story of courage, hope, self-acceptance, strength and happiness. He had a smile that could light up any room, and words of encouragement for everyone.
He is survived by his parents; a son, whom was the light of his life, Melvin Miller IV; a loving girlfriend, Jolanda Murry; sisters Amber (Jody) Stewart and Tiffani (Christopher Gavin) Miller; nephews Christopher, Sebastian and Elijah; niece Tatum; as well as uncles, aunts, cousins; and a host of friends.
He will be missed tremendously by all.
He was preceded in death by his grandparents, William and Leona Ash and Melvin Sr. and Mary Miller and uncle Michael Miller.
The family wishes to thank everyone for all the prayers and support during this difficult time. "It warms our heart to see how much he was loved and admired."
Family and friends will be received on Friday, Dec. 8, 2017, from 1 to 2 p.m., with the memorial service to follow at 2 p.m. at the Conley & Vanden Berg Funeral Home, 75 E. Midlothian Blvd., Youngstown.
Guestbook Entries
Condolences
"Hello Melvin, Traci, Amber and Tiffani, You are in my thoughts and prayers, and the Sims family send our deepest condolences in the loss of your son and brother. It's been a long time, but I remember him as being a fine young with a beautiful smile! God Bless you!"
» Michael,Nelda, Michael Jr. and Melissa Sims on December 18, 2017
MINISTER
"WEEPING MAY ENDURE FOR A NIGHT BUT JOY COMES IN THE MORNING. "
» CARDIE MCKINNEY on December 9, 2017
Condolences
"Tracie, Melvin and family: My deepest condolences at this difficult time. Thoughts and prayers to your family."
» Janice Torbert on December 8, 2017
To the Miller family
"Melvin and Tracy I am truly saddened at the loss of little Melvin. I had no idea but you are all in my prayers. And you have my utmost condolence"
» Janice Robinson on December 8, 2017
Ms.
"To Miller Family ..... In thoughts in prayers. Sorry to hear of your loss. May God Bless and keep you all at the difficult time. "
» Shifon Ballard on December 8, 2017
Thoughts and prayers
"My truest thoughts & deeply felt prayers are with all of you. Melvin was a beautiful person & an undying, amazing soul. Bless you all. "
» Kristin Sailor on December 7, 2017
Condolences
"Mel and Tracy- so very sorry to hear. All my thoughts are with you."
» JOHN JAMIESON on December 7, 2017
My deepest condolences
"Melvin, Tracy and family, I don't know what to say. My thoughts and prayers are with all of you. Know that you always are in my heart. Love you all - always, Laurie DeGenova Kramer Amber - Jimmy sends his condolences also. "
» Laura DeGenova Kramer on December 7, 2017
My Condolences
"Melvin, Tracey and family my deepest sympathy for your loss. My heart goes out to you. You all are in my prayers"
» Cynthia Williams on December 7, 2017
Prayers & condolences
"Traci, Melvin & Family, My heart breaks for you at this time, words can not express how I feel. My love, prayers & thoughts are with you during this difficult time. God bless & be with you."
» Georgiana Rice on December 7, 2017
Our prayers are with you
"To our precious and dear friends....our sorrow is deep for your loss that words can never express. We send our love....."
» Bud and Fran Nier on December 7, 2017
To the family
"Melvin and tracey i am sorry for your loss"
» Clarice love on December 7, 2017
Sad news
"Traci, Melvin, and family, my most sincere sympathy for your loss."
» Kathy Woodall on December 7, 2017
Our Thoughts
"I thoughts and prayers are with you and your family at this time we love you the Ewing family "
» Hylemia Ewing on December 7, 2017
My condolences
"Tracie and Melvin, I am loss for words, you have my deepest condolences at this difficult time. I will keep you all in my prayers."
» Shdena Boatwright on December 7, 2017
Marie Hugley Cleveland
"Deepest condolences on the loss of your beloved son."
» Marie Hugley Cleveland on December 7, 2017
Mr.Radical Rules
"My deepest condolences to all for your loss. My friend MrRadical you are sincerely missed."
» Ashley Roberson on December 6, 2017
Sign the Guestbook
---