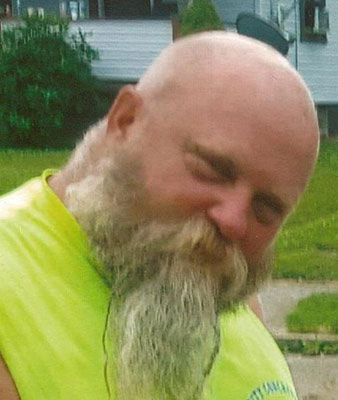 LEONARD 'LEN' EMANUEL
YOUNGSTOWN - Leonard "Len" Emanuel, 57, was called home Monday morning Dec. 4, 2017.
He was born Sept. 25, 1960, in Youngstown, a son of Leonard and Martha Emanuel. Known as Len, he was a unique and caring individual who touched the lives of all who knew him.
Len was preceded in death by his parents Leonard and Martha Emanuel, and his daughter, Rachel Emanuel.
He leaves behind a son, Daniel Emanuel; a daughter, Roxanne Williams, as well as six grandchildren and one great-grandson. Len grew up in Struthers in a family of eight and also leaves behind his sisters, Dawn, Tina, Philomena, Michelle, Rosalie; and his brothers, Richard and Robert Emanuel.
Leonard was a cement finisher in the Youngstown area for the past 40 years and most recently worked with HK Construction.
Friends may call from 5 to 7 p.m. Friday, Dec. 8, 2017, at the Davidson-Becker Funeral Home in Struthers.
Family, friends and others whose lives Len touched, are invited to a memorial luncheon from noon to 4 p.m. on Saturday, Dec. 9, 2017, at the Struthers Parkside Church, 110 Poland Avenue in Struthers.
In lieu of flowers, the family will graciously accept donations toward funeral expenses.
Visit www.beckerobits.com to send condolences.
Guestbook Entries
Condolences
"My condolences to the family, may his soul Rest In Peace. 🙏🙏"
» Bob Reardon on December 7, 2017
Deepest condolences
"To all Leonard's siblings (❤️ Michelle) and entire family. I'm so sorry for your loss. Leonard was my buddy in high school. May you find peace and comfort in the arms of the Lord."
» Crystal Rowe Robinson on December 7, 2017
Condolences
"Although your work on earth is done Your life in heaven has just begun. Your struggles here were hard and long But they're over now, you're finally home. Life wasn't easy, by choice or fate A decision made, sometimes too late. A fight to the finish, always strong Rest easy mom, you're finally home."
» Al & Rose Emanuel on December 7, 2017
HEARTFELT CONDOLENCES
"TO THE ENTIRE EMANUEL FAMILIES..WE WANT TO EXTEND OUR HEARTFELT SYMPATHY..WE ARE SO SORRY FOR YOUR LOSS...MAY HIS SOUL REST IN PEACE.."
» EDWARD & MARY UHRAIN on December 8, 2017
Condolences
"My deepest condolences for my cousin who I lost touch with many years ago. To all his brothers, sisters and his children I hope they find comfort in the upcoming days knowing that Leonard will be remembered."
» Henry Emanuel on December 8, 2017
SO SORRY FOR YOUR LOSS
"MY CONDOLENCES TO THE FAMILY"
» carl sherry anderson on December 8, 2017
Condolences
"I am simply a friend of the departed's nephew, wishing my deepest condolences to all those affected by this loss of life."
» Nathan C on December 10, 2017
condolences
"I am simply a friend of his nephew, wishing my deepest condolences to all those affected by this loss of life."
» Nathan C on December 10, 2017
A good friend and good buddy
"I loved Leonard... He was a good buddy during my growing up years in Nebo. He was a rough and tuff kind of guy. A free spirit... That's what I loved most about him. But He had a good heart... even my Mom loved him. I was very fond of all the members of the family that I knew. I took it hard finding out about Leonard... it was the loss of a good soul. I apologize to the family for not making it to the funeral... especially to Michelle. She had a heart of gold."
» Fred Yatsco on June 18, 2018
Sign the Guestbook
---