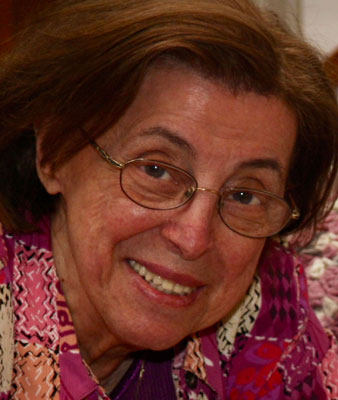 KANELLA STANOS VARVERIS
ALBANY, GA. - Kanella Stanos Varveris, 90, passed away peacefully on Dec. 4, 2017, at her home.
Kanella leaves behind her son, Atty. Nicholas M. (Dr. Maria Y.) Varveris, of Columbus; son Dr. Michael P. Varveris, of Naples, Fla.; daughter Frances I. (Dr. Andrew) Michas of Leesburg, Ga.; grandchildren Ariana, Alexandra, Alexandria, Michael, Efrosini and Anastasia; as well as numerous nephews, nieces, and godchildren.
She was preceded in death by her husband of fifty years, Michael Nicholas Varveris, whom she married on Dec. 12, 1964.
Kanella's children are forever grateful to Darlia Williams for the loving care she provided Kanella and Michael.
Kanella was an active and dedicated parishioner of St. John's Greek Orthodox Church in Boardman, where as a young adult, she served as choir director and organist for twenty years. Kanella also was a lifelong member the Greek Orthodox Ladies Philoptochos Society, where she later served as treasurer and president.
In 2005, Kanella and Michael were co-chairs of the 90th anniversary commemoration of the 1915 founding of St. John's and the 1965 permanent building committee. Also, with her husband Michael, who passed away in 2016, Kanella helped to edit a book entitled, Remembering Arcadia, which tells the story of the immigrants from Arcadia, a province in central Greece, who came to America in the early 1900s and settled in Youngstown. Kanella was also a member of the Tripolis Chapter of the Pan-Arcadian Federation for many years.
The youngest child of Greek immigrants from Arcadia, Kanella was born on Sept. 23, 1927, to Peter and Efrosini (Eliopoulos) Stanos. Like other Americans of her generation, Kanella's family, which included sister Irene and brothers Pardee and Steve (who preceded her in death), was devastated by the Great Depression. Additionally, Kanella's childhood was beset by family tragedy, which included the death of her fifteen year-old sister, the death of her father, and the confinement of her mother in a tuberculosis sanitarium, all in the span of less than two years. Kanella was eternally thankful to God for her mother's complete recovery and, together with her brothers, Kanella let no obstacle get in the way of educational and professional success.
Kanella's life was centered around her family, church, work, and school. Kanella earned the honor of graduating class salutatorian from The Rayen School in 1946. With her life story as an example, Kanella impressed upon her children that life's greatest rewards come to those who study and work hard and make sacrifices for more important goals.
Kanella worked as a manager for a local medical practice while, at the same time, beginning her accounting practice, which she maintained on a part-time basis when she was well into her eighties. Even though she had practiced accounting for nearly two decades, Kanella took on the challenge of being an accounting student at Youngstown State University in her late forties and she earned her Bachelor's degree in Accounting in 1983. All the while, Kanella took pride in caring for her clients' needs and being a devoted wife and mother.
Kanella's children will always remember the aroma of Greek breads and pastries that filled their home and the fresh-baked Greek cookies Kanella served her family and guests. During her later years, Kanella was a voracious reader. Those who knew of her humility, her sincerity, her abiding Christian faith, and her love and devotion to her husband and three children will always remember Kanella.
Funeral services will be held on Saturday, Dec. 9, 2017, at 10 a.m. following calling hours at 9:30 a.m. at St. John's Greek Orthodox Church in Boardman.
In lieu of flowers, contributions should be made to the St. John's Greek Orthodox Church Endowment Fund, 4955 Glenwood Avenue, Boardman, OH 44512.
Zoe Se Sas (May her memory be eternal).
Visit www.vaschak-kirilafh.com to view this obituary or to send condolences to the family.
Guestbook Entries
In Memory
"Nick and Mike, I remember your Mom as the sweetest person you can imagine. I hope you are doing well:)"
» Pat Burke on May 6, 2018
Memory Eternal
"Dear Francie, Michael and Nick-- We were deeply saddened to hear of your Mom's passing. I know we haven't seen each other in a long time, but we will always think of your family fondly. I remember your mom's gentle smile and kind demeanor. She made the world a sweeter place. May God be with you all and your families. Hopefully in better times we will see each other. Our door is always open if you're ever in Chicago. May her memory be eternal! Αιωνία της η μνήμη! Chrysso (Sarkos), Michael, Zoe Marika & Stephanos Sarris "
» Chrysso & Michael Sarris & Family on December 10, 2017
Our thoughts and prayers are with you.
"Dear Nick, Mike and Francie, We were saddened to hear of Aunt Kanella's passing. Our thoughts are with you all. May God grant you His comfort and peace. We all have been blessed to have her share in our lives. We will keep her and your family in our prayers. May her memory be eternal. And may God grant to each of you her spirit of strength, love and self sacrifice. Much Love to you all, Sophia and Bob and the whole extended Sarkos family"
» Sophia Sarkos and Bob Barnes on December 9, 2017
kanella stanos varveris
"we would like to express our heartfelt and deepest sympathy on the loss of your beloved mother. " eonia e meme" may her memory be eternal. zoe se sas"
» Mrs. Marika Gagas and Tom, Krissy and Mika Ranieri on December 7, 2017
Sign the Guestbook
---