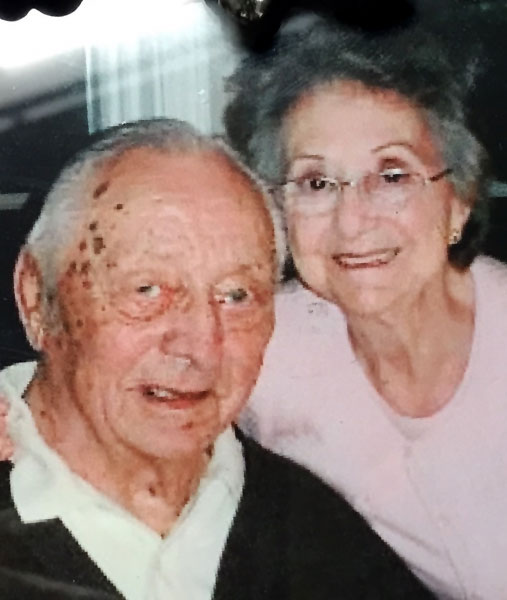 VIRGINIA J. POPOVEC
"Together Again"
VENICE, FLA. – A funeral of Divine Liturgy will be held Monday, Aug. 14, at 11 a.m. at St. Mary's Byzantine Catholic Church for Virginia J. Popovec, 97, formerly of Poland, who passed away Wednesday morning at her home in Venice, Fla.
Virginia was born March 8, 1920, in Brainard, Minn, a daughter of the late George and Andrene (Syndes) Gendron.
Virginia retired as a LPN from St. Elizabeth Hospital. She was a member of St. Mary's Byzantine Catholic Church, their Altar and Rosary Society and their Golden Pillars. Virginia was known for all the blankets she made. Even though she was blind it did not stop her from making them for hospice, veterans hospitals and nursing homes. Every child and grandchild has one. She loved traveling with her husband and playing card games with their friends.
Her husband, John Popovec, whom she married May 14, 1946, passed away Nov. 24, 2009.
Virginia leaves her three daughters, Mary Castell of Florida, Jeanne (Steve) Hamner of Georgia, and Nancy Popovec of Florida; a son, Dr. John (Alberta) Popovec of Canfield; eight grandchildren, Pamela Otterson, Jennifer Popovec, Christina Davis, Stephanie Schiavone, Nicole Bergen, Krista Brown, Jonathan Hamner, and Lindsey Hamner; and 11 great-grandchildren.
Virginia was also preceded in death by her siblings, Al Gendron, Les Gendron, Lucille Alhoe, Clara Wilson, Andrene Smith, and Georgia Running.
Family and friend may call Monday from 10 to 10:45 a.m. at the church.
In lieu of flowers, material tributes may take the form of donations to St. Mary's Byzantine Catholic Church Building Fund, 356 S. Belle Vista Ave., Youngstown, OH 44509.
Professional arrangements are being handled by the Higgins-Reardon Funeral Homes, Boardman-Canfield Chapel.
Please visit www.higgins-reardon.com to send condolences.
Guestbook Entries
my sincere condolences.
"Sorry for the loss of Mrs. Popovec. I remember her from the "court" on the east side. My mom passed away in Oct. last year. Thoughts and prayers from the Perkins' family. "
» jeanne perkins barker on August 12, 2017
Sign the Guestbook
---