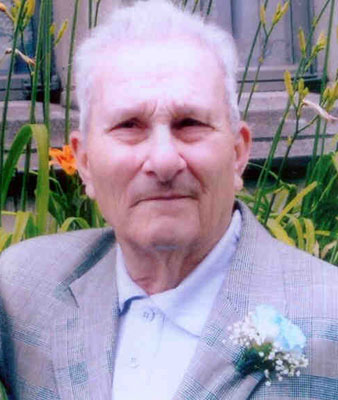 ROCCO MODERALLI JR
GIRARD – A Mass of Christian Burial will be held by Msgr. John Zuraw at 11 a.m. on Monday, April 24, 2017, at St. Rose Church for Rocco Moderalli Jr., 93, who died Wednesday, April 19, 2017, at his residence.
Rocco was born in Youngstown on March 14, 1924, to his parents, Rocco and Rose Bellitto Moderalli Sr. He is the last surviving sibling of nine brothers who grew up on Lafayette Street in the Brier Hill district of Youngstown.
Rocco was very proud of his Italian heritage. He was a member of St. Anne Church until its closing, when he became a member of St. Rose Church. He was a hard worker since the early age of 14, when he made deliveries for Finesilver's Grocery Store. Rocco spent 24 years working for North American Van Lines as a warehouse manager and also worked for the parking services at Youngstown State University.
He was a very talented baker and was known for making the best cakes and cream puffs.
On Aug. 7, 1948, Rocco married his high school sweetheart, the former VirginiaM arinelli, and together they raised three children, Linda (Ernest) Kaip, Karen (Rick) Zublena, and Rocco Moderalli III.
He was a loving husband, father, grandfather, and uncle who will be sadly missed by his grandchildren, Christina Kaip, Maria (TJ) McKnight, Robby Zublena, and Lindsay Zublena; eight nieces; one nephew; and as well as many great-nieces and great-nephews.
He was preceded in death by his parents; and eight brothers, Patrick (Irene), James, Nicholas (Eleanor), Joseph (Ruth), Anthony (Dorothy), Dominic (Josephine), Paul (Olga), and Carmen (Mary) Moderalli.
The family would like to give a special thanks to Briarfield Manor and Ohio Living Hospice for the care they gave to Rocco.
Family and friends will gather on Sunday, April 23, at the Schiavone Funeral Home from 3 to 6 p.m. and on Monday, April 24, from 9:45 to 10:45 a.m.
Burial will be at Calvary Cemetery.
Visit www.schiavonefh.com to share condolences.
Guestbook Entries
:(
"My condolences to you all. He was always a ray of sunshine when he came into the office even it it was just to bring us our treats. We have all lost a special person. Karen "
» Karen on May 1, 2017
condolences
"My condolences to the entire Moderalli family. My prayers are with you all."
» annette Ricci on April 21, 2017
Sign the Guestbook
---