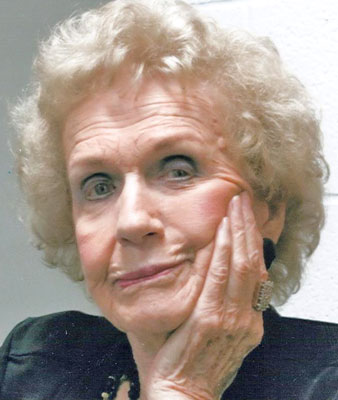 JEANNE T. WEICKENAND
SARATOGA, CALIF. - Funeral services will be held Saturday at 1 p.m. at the Wasko Funeral Home, with Pastor William Rotar officiating, for Jeanne T. Weickenand, 93, formerly of Campbell, who passed away Friday, April 14, 2017.
Jeanne was born Aug. 5, 1923, in Beaver Falls, Pa., the daughter of Carl Edward and Olga Elsie Timm Moltzen.
She was a 1942 graduate of Beaver Falls High School. Jeanne owned and operated a beauty shop and dress store called The Jeanne Craft Boutique in Beaver Falls for over 50 years. She was active in the Elks Club, the Business and Professional Women's Foundation, and created and was the president of "Up with People" singing group.
Jeanne's first husband, Edwin Craft, whom she married in July of 1943, passed away in March of 1945.
Her second husband, Dr. Walter Weickenand, whom she married July 5, 1955, passed away Oct. 30, 1978.
Jeanne is survived by her daughter, Karen (Craft) and Charles Gill of Saratoga; her grandsons, Zachary (Jessica) Gill of Goleta, Calif. and Jordan Gill of Los Angeles; her two great-granddaughters, Jaden and Ellie Gill; and her brother, Donald Moltzen of Beaver Falls.
Besides her parents, her first husband, Edwin Craft, and her second husband, Dr. Walter Weickenand, she was preceded in death her sister, Flora Lentz; and her brother, Robert Moltzen.
The Weickenand family has entrusted their loved one to the care of the Wasko Funeral Home and will receive family and friends Saturday from 11 a.m. to 1 p.m., prior to the 1 p.m. funeral service at the funeral home.
Visit www.waskofamily.com to view this obituary and send Jeanne's family condolences.
Guestbook Entries
Jeanne Weickenand
"I just today found out about Jeanne's passing. I was a member of Sing Out Youngstown and remember Jeanne so fondly. That was a lifetime ago but I remember her as if it were yesterday. My deepest sympathy. Just know she made a difference in so many lives that she probably never knew about."
» Betty Terpak Minnie on January 12, 2018
Sympathies
"My deepest sympathy to all of you. Jean was a wonderful person I always enjoyed talking with her at the beauty shop Salon @ Creekside . She will be greatly missed. Sincerely, Monica Dorko (stylist)"
» Monica Dorko on April 21, 2017
Sign the Guestbook
---