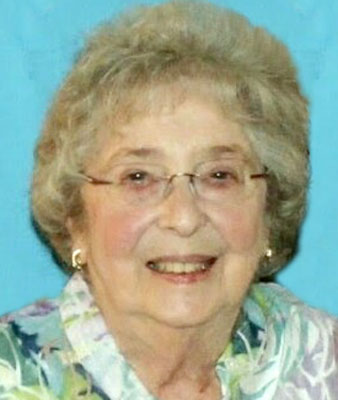 ANNA MARIE (BALDELLI) GARCIA
YOUNGSTOWN - A Mass of Christian burial will be held at 11 a.m. Saturday at St. Christine Church for Anna Marie (Baldelli) Garcia, 86, who was escorted to Heaven by angels on Wednesday, April 19, 2017. She was surrounded by her loving family and her sweet cat, Bunny.
"Ann" was born in Youngstown on July 9, 1930, the daughter of the late Nello Baldelli and Carmella (Colangelo) Baldelli.
She attended Immaculate Conception grade school, where she met Sister Alice Marie Morley OSU, who greatly influenced her and became her lifelong friend and mentor. After graduating from East High School in 1948, Ann attended Youngstown College.
She married her high school sweetheart, Manuel "Mike" Garcia, on Sept. 13, 1952.
She worked for Dr. Macy Woolf as a dental assistant, for six years and then moved to Alliance, where she worked for Mount Union College Athletic Department, while her husband attended school.
Ann and her family settled in Canfield in 1962, and remained there for 52 years. She attended Bill Hixson Floral Design School in Cleveland, and worked as a master floral designer for both The Flower Mill and Briel's Flowers. Her floral talents were well-known and her wedding and funeral expertise was greatly sought after. She later worked as an associate of J.C. Penney/Thrift Drugs Corporation, retiring in 1991.
Ann was a charter member of St. Michael Church, and over the years she served in many capacities, including vice president of Altar Guild, minister of the Holy Eucharist, Altar server, choir and Garden Club member, Mass and Mercy Lunch coordinator. She often volunteered at St. Vincent DePaul Society.
Ann was a member of the French Club, Cirque du France and the American Association of Dental Assistants. She also was a member of the Austintown Fitch Cross Country Tag-a-Long Booster Club. Her favorite "club" was the Baldelli Club, which consisted of her brothers, her husband and sisters-in-law, who all got together every month at a different restaurant for a family "meeting" and luncheon.
Her undying positive attitude and energy was contagious to everyone who knew her. Her kindness and generosity was part of her nature. Friends and family always knew she would be there for them to lean on. She was gifted with her care, for her grandchildren as they grew up, and with many ill family members and friends as they grew old. A teacher at heart, her lessons were many and she used her life as an example to all.
As a first generation Italian, Ann embraced her heritage and culture. Following in her parents footsteps, she was proud and instrumental in maintaining her family connections in Italy. She recently worked closely with her cousin, Ben Lariccia, to translate family letters and other memorabilia that reside in the Youngstown State University Italian Archives. She made the trip of her lifetime to Rome in 2005 to meet her cousins for the first time, and visit her father's hometown of Manciano, Italy.
Ann leaves her beloved husband of 64 years, Manuel (Mike) Garcia; her children, James (Barbara) Garcia of Twinsburg, Mary Alice "Mimi" (Dr. James) Kerrigan of Boardman, and Suzanne "Suzy" (Morton) Madison of Austin, Texas. Her grandchildren, John, Christine and Jimmy Kerrigan and Alex Madison all adored their "Nana."
She also leaves her brother, Raymond (Sally) Baldelli; sister-in-law Jeanne Baldelli; and many loving nieces and nephews.
Besides her parents, she was preceded in death by her brother, Neil Baldelli.
Friends and family may call Saturday morning at St. Christine Church, prior to Mass from 9 to 10:45 a.m.
Ann had an undying devotion to her Catholic faith and supported Catholic education, therefore, in lieu of flowers, the family requests that any memorial contribution may be made to Ursuline High School, 750 Wick Ave., Youngstown, OH 44505, or St. Joseph the Provider School, 1125 Turin St., Youngstown, OH 44510.
Ann's family would like to extend a special thank you to the Reese family and the entire staff at the Inn at Christine Valley for creating a warm home environment, and also to MVI Hospice for their kindness and compassion during Ann's brief illness.
Visit www.higgins-reardon.com to view tribute and send condolences.
Guestbook Entries
Condolences & Love to the family
"I am so sorry to hear of Annie's passing. She was the most fantastic lady to work with at Eckerd, and was like a 2nd Mom to me when my Mother passed. We sure had our share of laughs at Eckerd. Sending love & our deepest sympathy to Ann's entire family. Love, Lois & Steve Dominko"
» Lois & Steve Dominko on April 22, 2017
Condolences
"So sorry for your family's loss. Annie was always a second mother to us as high school runners of Coach Garcia. She was always upbeat and genuinely cared about us not only as HS kids but as adults. She was a very special person that will be greatly missed. God Bless "
» Eldon Jones on April 21, 2017
Condolences
"To the Garcia family, I am so deeply sorry for your loss. It was always a pleasure to me caring for your family and Ann was just an amazing person. May God bless you all during this difficult time. With Love, Jessica Turkovic (stna)"
» Jessica Turkovic on April 21, 2017
Sign the Guestbook
---