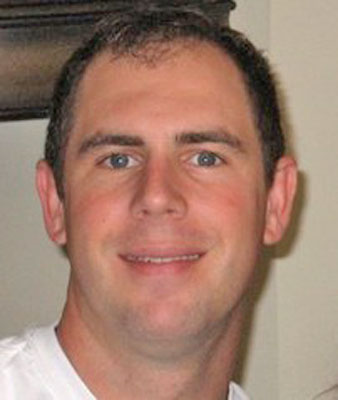 ANDREW 'ANDY' JOSEPH GETZ
PAWLEYS ISLAND, MYRTLE BEACH, S.C. – Andrew "Andy" Joseph Getz, 38, formerly of McDonald, passed away on Tuesday afternoon, May 10, 2016, from complications of Chronic Regional Pain Syndrome (CRPS/RSD).
A memorial service will be held at 11 a.m. on Saturday, June 4, 2016, at the Grace Lutheran Church, 162 S. Raccoon Road in Austintown. There will be visitation prior to service, beginning at 9:30 a.m.
Andy was born on Sept. 26, 1977, the son of Ray and Linda (Burnside) Getz.
He was raised in McDonald and graduated from McDonald High School in 1996. He enjoyed sports and being part of competitive teams.
Having excelled as a track cross-country athlete in high school, Andy earned a scholarship to the University of Findlay, where he continued as a collegiate athlete. Andy graduated from U.F. in 2000, with a Bachelor of Science Degree in Environmental and Hazardous Materials Management.
He started his career with Quality Environmental Technologies, being assigned major responsibilities and working on projects in more than 20 different states.
Andy was credited with completing projects "the right way, on time, every time," and demonstrated a knack for creative water treatment methods.
In 2005, Andy and his wife, Michele, relocated to Pawleys Island, where his servant's heart led him to become a firefighter, EMT and hazmat coordinator.
Andy loved his working career. An opportunity came that led him to form his own environmental services company, React 365 Inc., which he and Michele operated until he became seriously ill.
Andy was known for his kindness, compassion, exceptional work ethic and sincere love of family and friends. He enjoyed working outdoors, hands-on, and helping those in need.
Andy was preceded in death by grandparents Ruth and Joseph Getz and Myron Burnside.
Andy is survived by his wife, Michele; parents Ray and Linda Getz; brother Ryan Getz; nephew Lourenzo; "Nana" Minnie Burnside; mother-in-law Karen Feighan; sister-in-law Pam Jordan (John McCannon); niece Miranda; and many aunts, uncles, cousins and dear friends.
Guestbook Entries
« Be the first to sign ANDREW 'ANDY' JOSEPH GETZ guestbook.
---