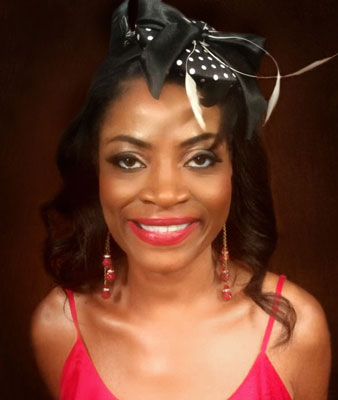 GLADYS L. MANIGAULT
LONG BEACH, CALIF. – Gladys L. Manigault, 43, formerly of Youngstown, died Saturday, Feb. 20, 2016.
Gladys was born in Youngstown, Jan. 21, 1973,  the daughter of Theresa M. and the late Jack T. Manigault Sr.
Gladys, who was affectionately known as "Dimples" to her family and friends, graduated from The Rayen School, class of 1992, with honors and attended Cincinnati State University to study for her degree in early childhood education. Gladys worked for the Los Angeles Clippers TNBA youth camp as a parent advisor.  She was a passionate Christian, and proud member of the choir and praise dance team at the Weller Street Missionary Baptist Church in Los Angeles.
Gladys leaves to cherish her memory, her mother, Theresa Manigault of Calabasas, Calif.; her sons, Jalen and Jawalyn Anderson; her brother, Lester Walker and his wife, Midge of Youngstown; sister Rev. Omarosa O. Manigault of Beverly Hills, Calif.; and a host of other family, friends and associates.
Besides her father, she was preceded in death by her son, Kim Manigault; her brother, Jack T. Manigault Jr.; her grandmothers, Gladys Manigault and Betty Walker;  her grandfathers, Robert Manigault and Robert Walker; and her uncle and aunt, Mary and Marvin Walker.
Funeral services will be conducted at the Weller Street Missionary Baptist Church in Los Angeles on Saturday, Feb. 27, 2016, at noon, with her sister, the Rev. Omarosa Onee Manigault, officiating.
Please visit www.GladysManigault.weebly.com to send online condolences to the family.
Guestbook Entries
"OmarosA, U and UR Family R N MY PRAYERS...."
» Trish Thomas on February 25, 2016
"GOODBYES...R NOT Forever, NEITHER R THEY The End, THEY Just Mean, REST On, GLADYS, UNTIL WE MEET AGAIN...."
» Trish Thomas on February 25, 2016
"Sending prayers to all of you. She was always such a sweet person and will be missed. May God comfort and keep you!"
» Tiffany Fields-Williams on February 25, 2016
"Onee, I'll be praying for you and the family.I'll let Coach House know. Min. DC Colvin and The rest of The Rayen School family"
» DC Colvin on February 25, 2016
Youngstown family
"WE in your home town, send our love and prayers you and your family. Bless you all and may God cover you in peace always."
» Sabrina Douglass on February 25, 2016
"Praying for your family. Your neighbors; the Brown, Wilkins Families. "
» Herma Brown Barnette on February 25, 2016
Uncle Martin & Aunt Pearl
"The God of all comfort 2Corinthians 1:3"
» Walker on February 27, 2016
Theresa &Family
"The Hubbard family sending condolences your way. along with prayers going up for your loss of your special loved one.May the lord touch all of your hearts ,comfort you mind with great memories and laughter as time goes by . "
» Jackii Hubbard -Edwards on February 27, 2016
Sign the Guestbook
---