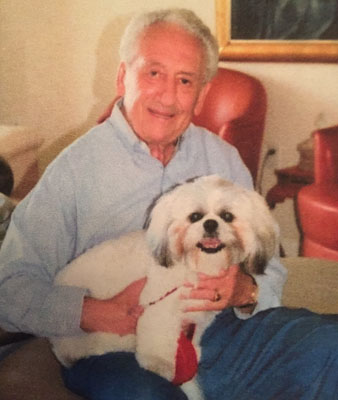 NATHAN H. MONUS
PALM BEACH, FLA. – Nathan H. Monus, passed away peacefully at home, with his family around him on Dec. 19, 2016.
He was born in Youngstown, on Oct. 14, 1921, to Sarah and Frank Monus, the youngest of three brothers.
He attended The Rayen School, Virginia Military Academy and The Ohio State University. He enlisted in the U.S. Army and served in World War II, stationed in Europe and fought in the Battle of Normandy. He returned from the war and soon after married Frances Tamarkin on June 16, 1946. They were married 54 years until Frances passed away in 2001. They lived their life in Youngstown, and in later years in Palm Beach.
He was vice president of Finance and Administration at The Tamarkin Co. in Youngstown, until he retired.
His volunteer work and dedication to the Mahoning Valley garnered him many awards and rewarding times in his life.
Some of his achievements and awards included Youngstown State University Alumni Association 1991 Distinguished Citizen Award, in recognition of his outstanding business and community leadership, presented on June 20, 1991; second chairman of the board of directors, and one of the founders of the Morse Geriatric Center in Palm Beach; honorary degree of Doctor of Laws, conferred on June 22, 1991, by the board of trustees and president of Youngstown State University; first president of Leadership Youngstown; The Mahoning Valley Man of the Year Award in recognition of and in grateful appreciation for the many extraordinary contributions he has made through his outstanding dedication and leadership toward the civic and economic well-being of the Mahoning Valley, presented by the Board of Trustees of the Mahoning Valley Economic Development Corporation on October 21, 1988; past member of the board of trustees of Hebrew Union College; former board member and president of Squaw Creek Country Club; former board member of Palm Beach Country Club; National Board of United Jewish Federations; past president of Rodof Shalom Temple; and past president of the Youngstown Jewish Federation
Nathan is survived by his children, Michael Monus and his wife, Mary, and Susan Monus and her husband, Fred Kalmar; his grandchildren, Jason Monus and his wife, Jill, and Brett Monus; and his two great-grandchildren, Jackson and Juliette, who loved him very much.
"The family wishes to acknowledge Shirley Landwirth and Susan Wright, who have been integral members of our family unit in recent years."
The family requests that donations be made to the Monus Fellows for Entrepreneurship Studies and Programs at the Youngstown State University and sent to the YSU Foundation, 655 Wick Ave., Youngstown, OH 44502.
Guestbook Entries
Condolences
"My deepest sympathy to the family and friends of Nathan. May his memory be eternal."
» Paul on April 13, 2019
Sign the Guestbook
---