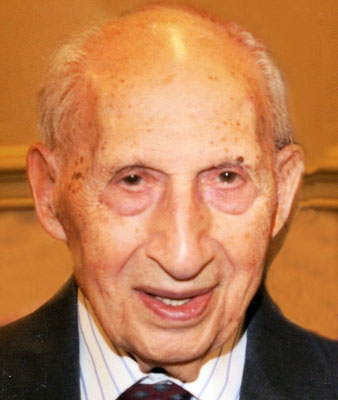 JOSEPH A. GABRIEL
NEW CASTLE, PA. – Joseph A. Gabriel, 95, passed away the evening of Dec. 14, 2016, at Jameson Care Center.
Born Dec. 25, 1920, in New Castle, he was the son of the late Charles "Khalil" and Barbara Jimm Gabriel.
Surviving at home is his beloved wife of 54 wonderful years, the former Veronica C. George, whom he married Oct. 27, 1962.
Joseph retired as an insurance agent for John Hancock Insurance Company. A World War II U.S. Army veteran, he held great pride in being a gunner in Okinawa, Japan.
Joseph was a devoted lifetime member of St. John the Baptist Maronite Catholic Church. He loved sports of all kinds, and was an avid Pirates and Steelers fan.
Always an honorable man and true gentleman with a large, warm heart, Joseph loved his family, church, and country above all else. He will always be remembered as a kind and respectful husband, father, brother, and grandfather, who took pride and joy in his beloved family for all of his days.
In addition to his wife, Joseph leaves behind to cherish his memory, his children, Joseph W. Gabriel and wife Kellie of Poland, Barbara Ann Thomas and husband Joseph of New Castle, Ann Marie Vasconi and companion Paul Redmond of New Castle, and Tina Quahliero and husband Perry of New Castle; sister Anne Davis of New Castle; and grandchildren Noah Gabriel, Christian Gabriel, Sarah Gabriel, Angelina Quahliero, Antonio Quahliero, and Brian Vasconi.
In addition to his parents, he was preceded in death by his sisters, Sarah Demko, Sadie Gabriel, Jennie Gabriel and Anna Gabriel; and brothers James, Charles, and Michael Gabriel.
Visitation will be held Sunday from 1 to 5 p.m. at the Ed & Don DeCarbo Funeral Home & Crematory, 941 S. Mill St. in New Castle.
A service of incense will be conducted Sunday at 4:45 p.m. at the funeral home.
A procession will leave the funeral home Monday at 9:30 a.m. to attend a funeral liturgy at 10 a.m. at St. John the Baptist Maronite Church, officiated by Father Claude Franklin.
Interment will take place at Parkside Cemetery, where the New Castle Area Honor Guard will perform full military rites.
Please visit www.decarbofuneralhome.com where online condolences may be offered to the family.
Guestbook Entries
« Be the first to sign JOSEPH A. GABRIEL guestbook.
---