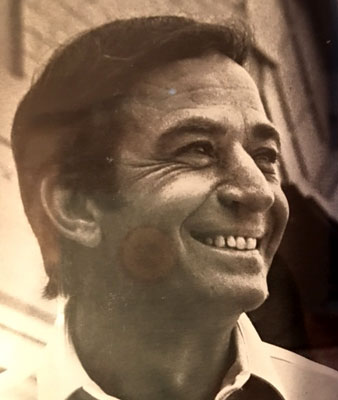 ZIPPY MOROCCO
ATHENS, GA. - Zippy Morocco, 86, died Sunday, April 24, after a long and courageous battle against cancer and depression.
A native of Youngstown, Morocco went to Athens when he signed with University of Georgia in 1948. After college, Zippy was drafted by the Minneapolis Lakers in basketball and the Philadelphia Eagles and Montreal Alouettes in football. His playing career ended after suffering an athletic injury while playing service football in the military.
He eventually settled in Athens where he established a successful real estate business and became a fixture in the Classic City.
Zippy is considered one of the greatest two-sport athletes ever to play for the Bulldogs.
In football, he ranks third all-time at Georgia with a punt-return average of 14.2 yards. He led the Bulldogs football team in kickoff returns three consecutive years and in punt returns two years. He also led the Georgia receivers in 1950 and averaged more than 10 yards every time he touched the ball.
In basketball, Morocco became Georgia's first All-American in 1953, when he set the SEC record for scoring (590 points at the time). His greatest performance came that season with Georgia trailing Tennessee 86 to 85 in Knoxville. Morocco dribbled away nearly the entire final minute. Then, with four seconds remaining, he unleashed a set shot from an estimated 40 feet, swishing a victorious jump shot as time expired. Morocco was named the SEC's Most Valuable Player that season. He was inducted into the State of Georgia Sports Hall of Fame in 1986, and UGA's Circle of Honor in 2002.
"He really was one of the (great) two-sport stars we've ever had," said UGA's Loran Smith, an athletics association fundraiser and resident historian. "He was an All-American in basketball, a slick punt returner and good running halfback in football and just had a fluid style of athleticism. He set the SEC scoring record in basketball the same year that Bob Petit was at LSU."
Zippy never forgot his roots and loved telling friends and family about his humble beginnings. He told how his father emigrated from Italy and worked the blast furnaces at Republic Steel to support two sons and five daughters. All nine family members lived in two bedrooms. Zippy loved to tell his grandchildren about growing up in a poor, but happy family and how he was shining shoes and selling newspapers on the streets of Youngstown at the age of 7 to help earn money for his family.
Zippy is survived by his wife of 55 years, Fran; his three children, Gregory Morocco, Alison Morocco and Chris (Page) Morocco; as well as four grandchildren.
A memorial service will be held at St. Joseph's Catholic Church on Prince Avenue at 11 a.m.
Burial will be private.
In lieu of flowers, contributions in Mr. Morocco's name can be made to UGA Lettermen's Club, 1070 Lake Wellbrook Drive, Athens, GA 30606; or St. Joseph's Catholic Church, 134 Prince Ave., Athens, GA 30601.
Guestbook Entries
"Our prayers are with the family- "
» Greg Main on April 27, 2016
"My deepest condolences to the Morocco family. My father, Joseph "Ace" LoCicero admired and respected Zippy, always speaking of him in the highest regard. God Bless."
» David LoCicero on April 27, 2016
Mrs.
"My parents have great memories of your dad and always spoke so highly of him. I know my dad and mom are praying for you all. "
» Jan Rezek Strahm on April 27, 2016
Mrs.
"My parents have great memories of your dad and always spoke so highly of him. I know my dad and mom are praying for you all. "
» Jan Rezek Strahm on April 27, 2016
Sign the Guestbook
---