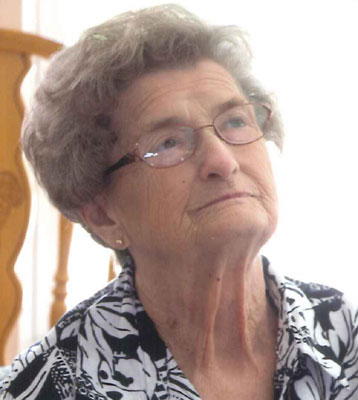 FONDA R. JUDGE
AUSTINTOWN – Funeral services will be at 1:30 p.m. on Friday at the Lane Family Funeral Homes, Austintown Chapel, for Fonda R. Judge, 80, who passed away Monday afternoon at Briarfield Manor.
Fonda was born May 18, 1934, in Wetzel County, W.Va., the daughter of the late Clarence B. Pyles and Maxine Allen Tackett.
She was a member of the Ohltown United Methodist Church and its choir and a former member of the Eastern Star in Youngstown.
Fonda was a devoted wife, mother, and grandmother. Her love of family knew no bounds. She loved reading and enjoyed listening to hymns and also to country music, especially George Jones.
Fonda leaves three daughters, Amber R. Reynolds of Austintown, Scarlet (Edward) Chlebus of Heath, and Crystal (John) Pasquarelli of Madison; and also one son, Tom (Colleen) Judge of Johnstown; and nine grandchildren, Tibitha (Dan) Matheney, Jessica Schwellinger, Brian (Amy) Mackos, Julie (Jay) Ragalyi, Sarah Mayhugh, James Laska, Bonnie Laska, Julie (Dave) Judge, and April (Chris) Paulhas.
Besides her parents, Fonda was preceded in death by her husband, William G. Judge, whom she married Nov. 22, 1951, and who passed away Dec. 28, 1997. She was also preceded in death by a sister, Terri Mayhugh and two children, William Jr. and Ramona.
Friends may call from 6 to 8 p.m. on Thursday and again from 12:30 to 1:30 p.m. on Friday at the Lane Family Funeral Homes, Austintown Chapel, where services will be held at 1:30 p.m.
Interment service will take place at Green Haven Memorial Gardens, following services at the funeral home.
The family suggests that material tributes take the form of donations to the Wounded Warrior Project, P.O. Box 758517, Topeka, KS 66675, in Fonda's name.
Family and friends may visit www.lanefuneralhomes.com to view this obituary and send condolences.
Guestbook Entries
« Be the first to sign FONDA R. JUDGE guestbook.
---