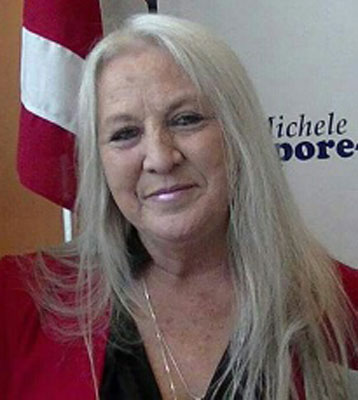 PATRICIA GORCHEFF
NORTH LIMA – Funeral services will be held on Saturday, Jan. 24, 2015, at 2 p.m. at the Unitarian Universalist Church of Youngstown, 1105 Elm St., for Patricia Gorcheff, 59, who died on Jan. 20, 2015, at Hospice House.
She was born in Altoona, Pa., on June 1, 1955, the daughter of the late Zane and Helen Brunner Wise.
Patricia was a homemaker and an amazing woman with a passion for life. She bravely spoke out against injustices and wrongs, especially those which harmed our earth and put lives at risk for profit. She will continue to be an inspiration to the Frack-Free Mahoning Valley and Frack-Free America National Coalition family.
Surviving are her husband, David Gorcheff; a son, Brandon and daughter Kelsey, both at home; two brothers, Bruce Wise of Altoona and William Wise of Montoursville, Pa; three sisters, Debbie Stevenson of North Lima and Janet Reed and Shirley Rhine, both of Altoona; and a half sister, Joy Glover of Lancaster, Pa.
She was preceded in death by a brother, Charles Wise and a sister, Margaret Schaffer.
The Matthew W. Conley Funeral Home in Youngstown is in charge of arrangements.
Guestbook Entries
"Rest well sweet sister. Love you."
» Patty Marsh on January 23, 2015
"OH Patti. Generous, kind and OH what a fighter. Your work will help us for years to come."
» John Williams on January 23, 2015
Neighbor
"Sending out our deepest sympathy to family in this time of sadness. You, (Patty) have always been the kindest and most caring compassionate neighbor. So gentle to help animals in need to make the difference...an amazing kind heart & soul. Peaceful blessings! You will truly be missed!"
» Kimberly Carolyne & Family on January 24, 2015
"Patti, I will miss you so much. You are one of the bravest, kindest, and most persistent people I have ever met. I will always remember your sheer will and kind heart. You were a friend from the moment I met you. Love you! "
» Tina J. on January 24, 2015
"Patti, you are and ALWAYS will be such a bright light. Whether it was a fellow human in need or an animal.... your compassion, diligence, strength and warmth never wavered. This poem by Emily Dickinson reminds me of how you lived your life... IF I can stop one heart from breaking, I shall not live in vain; If I can ease one life the aching, Or cool one pain, Or help one fainting robin Unto his nest again, I shall not live in vain.-Emily Dickinson I will always cherish that I got to know someone like you!! I bet you're already wowing them in Heaven!! You will be so very missed... Love, Erin Y. "
» Erin Y. on January 25, 2015
Sign the Guestbook
---