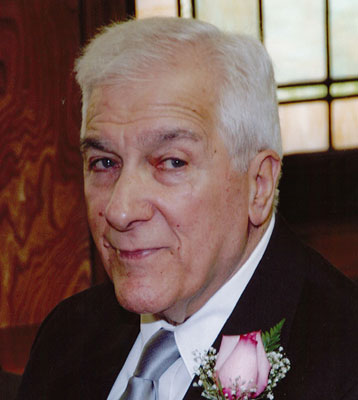 LAWRENCE J. PALLADINO
BOARDMAN - A Mass of Christian Burial will be held Friday, at 12:30 p.m. at St. Charles Borromeo Church, for Lawrence J. Palladino, 89, who died at his residence, Tuesday, Sept. 2, 2014, with his wife at his side.
Larry was the beloved husband of Elizabeth Palladino, and a son of Angelo Palladino and Mary Magliano Palladino.
Born March 7, 1925, in New York City, Larry graduated from the High School of Commerce and attended Fordham University.
He was a World War II Army veteran, serving in the Pacific Theater on the island of Guadalcanal. He was honorably discharged in 1946.
He married Carolyn M. Foscante on Oct. 19, 1947. She died on Sept. 6, 1975.
Larry was an officer with the New York City Police Department, retiring in 1979, after 27 years of service.
Besides his parents, first wife, and son Lawrence J. Palladino Jr., who died in 1990, Larry was pre-deceased by two infant brothers, and by brothers and sisters-in-law Anthony (Irma), Donato (Sarah), and Joseph (Anna) Palladino. He was also predeceased by his sisters and brothers-in-law, Rose (Vito) Viola, Elvira (Salvatore) DiLello and Marie (Arthur) Allen.
Larry leaves to cherish his memory his wife, Elizabeth, whom he married on June 18, 1996, and sister Helen (Frank) Mascatello of Centreville, Va. He is also survived by many nieces, nephews, and cousins; stepdaughters Cassandra A. Beard of Greeley, Colo. and Jennifer (Almon) Burke of Youngstown; and by three stepgrandchildren.
Larry was a member of the Kingston, N.Y., Knights of Columbus Council 275. He was a 4th degree Knight and member of the Color Corps. He was also a member of American Legion Post 150, and VFW Joyce Schrick Post 1386, both in Kingston.
He moved to Boardman in December 2012, and was a member of St. Charles Borromeo Parish.
There are no calling hours.
Interment will take place at Poughkeepsie Rural Cemetery, Poughkeepsie, N.Y.
In lieu of flowers, donations may be made in Larry's memory to the Alzheimer's Association.
Please visit www.beckerobits.com to send condolences.
Arrangements are being handled by the Davis-Becker Funeral Home in Boardman.
Guestbook Entries
Sign the Guestbook
---