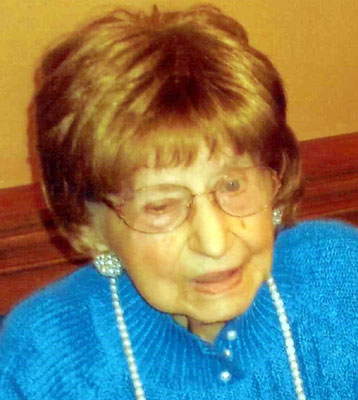 IRENE D. 'I' (TEXTER) LABANC
YOUNGSTOWN - Irene D. "I" (Texter) LaBanc, 86, was born Feb. 15, 1928, daughter of John and Helen Gulas Texter.
She graduated from Campbell memorial High School in 1946, president of her class.
Irene worked for Standard Slag, Ohio Hotel and retired from Central Kitchen for the Youngstown City School.
Irene belonged to the Our Lady of Sorrows Holy Name of Jesus Catholic Church, its Altar and Rosary Society, Holy Name and St. Christine senior citizens.
Irene was a very devout Catholic, who enjoyed spending time with her children, grandchildren and great-grandchildren, who loved her very much. Her stuffed cabbage will be missed by all.
Irene married Larry J., Nov. 4, 1950, and had four children.
She is survived by her children, Larry LaBanc of Charlotte, N.C., Laura Gerst and Greg Sholtis of Youngstown, Carol and Floyd Mancini of Youngstown, Jean and John Schmidt of Youngstown; brothers and sister John (Vera) Texter of Campbell, Ray (Diane) Texter of Florida, and Helen (Bill) George of Struthers; two sisters-in-law, Ann Burtka and Eleanor LaBanc, both of Michigan; grandchildren Angela (Jeff) Sewecke, Candice (Justin) Carney, Jenifer (Ryan) Wise, Ashley Schmidt, Chrissy (Brad) Nichols, David (Kristen) Mancini; great-grandchildren Michael, Nicholas, Anthony Sewecke, Tyler and Kayleigh Carney, Dylan and Gia Mancini; along with many nieces and nephews.
Irene was preceded in death by her husband, Larry; her brother, Eddie; and her sisters, Mary Ann Fatolitis and Eleanor Hierro.
The family would like to thank Dr. Vivian Starr and the staff of Park Vista, especially the second floor nursing and activity staff.
The family requests that donations be made to Hospice of the Valley.
A funeral service will be held today, Sept. 4, 2014, at 9:30 a.m. at the Vaschak-Kirila Funeral Home in Youngstown, followed by a service at the Our Lady of Sorrows Parish Holy Name Of Jesus Church at 10 a.m.
Calling hours were held Wednesday, Sept. 3, 2014, at the funeral home.
Please visit www.vaschak-kirilafh.com to view this obituary or to send condolences to the family.
Guestbook Entries
the Hills
"Laura, Greg & family: My sympathies and prayers. "
» NancyN on September 4, 2014
Sign the Guestbook
---