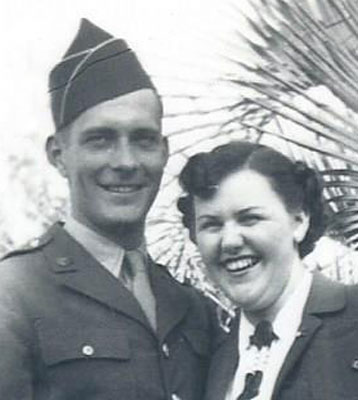 CHARLES J. MOSS JR
"Together Again"
POLAND - Prayer will be 9:30 a.m. Saturday at the Fox Funeral Home, followed by a Mass of Christian Burial, celebrated by the Rev. Philip Rogers at 10 a.m. at St. Charles Church for Charles J. Moss Jr., 96, who passed away peacefully Tuesday afternoon.
 Charles J. Moss was born Dec.  17, 1917, in Youngstown. He was the only child of Charles and Pluma Early Moss.
He graduated from Struthers High School in June 1936, and soon after was hired at the Youngstown Sheet & Tube Company, prior to going in the U.S. Army, and after the war, went to work on the Erie Railroad on April 7, 1950, then retired Jan. 6, 1980, from Conrail.
Charles entered service with the U.S. Army on March 23, 1942, with the newly reactivated 82nd infantry Division, company K, 325th regiment at camp Claibourne, La. On Aug. 12, 1942, he was placed on a Cadree to Camp Breckinridge, Ky. to activate the 98th infantry division, company K, 389th regiment. After training, he spent time in the Pacific area, then finally occupation in Japan. He was honorably discharged from the Army on Jan. 17, 1946.
He was a member of the Knights of Columbus Council 2935, Girard. Prior to that, in 1959, he was a charter member of K of C Council 4760. He held many offices, including Grand Knight from 1983 through 1987. In 1987, he was honored by receiving the Knight of the Year award from the Greater Youngstown K of C Chapter. He also was an active member of the St. Vincent de Paul Society, St. Charles Conference and also an Usher at the church. He had received the Eagle Scouting Award as a young boy and later was active in scouting as his sons were growing up. Two of his sons also received scouting's highest Eagle Award.
Charles and his wife, the former Mary Elizabeth Snyder, were married on May 23, 1942, and passed away Dec. 8, 2008.
Charles memory will be cherished forever by his children, Charles J. (Rose) Moss III of Phoenix, Geraldine Anne Moss of Madrid, Spain, Edward Allen (Anne) Moss of Poland and Martyn Paul (Elaine) Moss of New Middletown; he also leaves four grandchildren, Jessica (Tom) Schmitt, Erik (Stephanie) Moss, Kaitlyn Moss, Charlie Silverstein; and a great-granddaughter, Jane Schmitt.
Charles' family requests that any material tributes be made to St. Charles Church, 7345 Westview Dr., Boardman, OH 44512.
Friends may call on Friday from 6 to 8 p.m. at the Fox Funeral Home, 4700 Market St., Boardman, OH 44512.
Family and friends may visit www.foxfuneralhome.org to view this obituary and send condolences.
Guestbook Entries
"my prayers and sympathies"
» Mala Salata on September 4, 2014
"my prayers and sympathies"
» Mala Salata on September 4, 2014
Sign the Guestbook
---