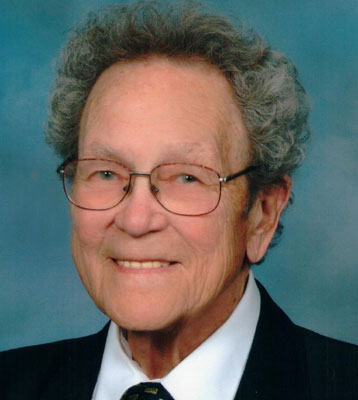 CHARLES JOSEPH 'CHARLIE' BUTLER
"Never Apart"
LIBERTY – Charles Joseph "Charlie" Butler, 94, passed away peacefully at his home, surrounded by family, on Sunday, Oct. 5, 2014.
Born Aug. 15, 1920, in Chicago, he was one of four children of the late John and Catherine Fergus Butler.
Charlie was a proud graduate of the University of Notre Dame, where he played varsity basketball for the Fighting Irish and was team captain. Following his graduation from Notre Dame, he completed the V7 program at Columbia University and became an Ensign in the U.S. Navy. He then served in the South Pacific during World War II as a Lieutenant Junior Grade.
On April 21, 1945, Charlie married, in his words, "the most beautiful girl in the world," the former Dorothy White, at St. Joseph Parish in South Bend, Ind.
Upon completion of his military service, he played professional basketball with the Chicago Gears, Syracuse and, in 1946, the Youngstown Bears. He was a member of the National Basketball Association retirement club.
When Charlie relocated to Youngstown, he was employed with the Commercial Shearing and Stamping Company. He remained with Commercial for 35 years, retiring in 1982 as Vice President of Press Metal Products. He was a member of the American Metal Stamping Association and Steel Tank Institute.
Charlie was a longtime resident of Youngstown and a faithful member of St. Edward Parish, serving as a Eucharistic minister and usher. He was active in numerous community and service organizations throughout his life. He served as a board member and President of the Downtown Kiwanis Club, being awarded the Kiwanis Higgins Award in 2001; he served on the boards of the Notre Dame Monogram and Chesterton clubs; was a member of and inductee into the Curbstone Coaches Hall of Fame; was a member of the YSU Penguin Club; was a member of the Coaches Club of Warren; was an inductee into the Hall of Fame at Mt. Carmel High School in Chicago for basketball; was active with the Special Olympics for many years; was a member and President of the Serra Club; and was a member of the Butler Institute of American Art.
Always known for his witticisms and charming personality, Charlie's family and friends relished the time they spent with him. Some of his fondest memories are of the many family gatherings in Chicago and at Sister Lakes in Michigan, where he very much enjoyed his time with his nephews and nieces.
Throughout the years, Charlie was an avid golfer, bowler, and card player. He was a loyal supporter of the YSU Women's and Men's basketball teams, and regularly attended their games. In recognition of the Butlers' long-time interest in and support of YSU athletics, the family established The Charles and Dorothy Butler Athletic Scholarship to enhance the YSU Athletic Scholarship Endowment Fund.
Charlie leaves to cherish his memory, his nine children, Kathleen Zamarelli of Warren, Charles Jr. (Nan) of LaSalle, Ill., Michael of Philadelphia, Patricia of Niles, John (Denise) of Boardman, Thomas (Marilynn) of Canfield, Margaret of Denver, Eileen of Youngstown, and Mary Kelly of Cincinnati; 25 grandchildren; 30 great-grandchildren and growing; and a brother, Robert, of Chicago.
Charlie was preceded in death by his wife of 68 years, Dorothy, who died Dec. 13, 2013; his parents; a sister, Jean Midkiff; and a brother, Jack. Also deceased are his daughter-in-law, Theresa Butler, and son-in-law Edward Zamarelli.
Family and friends may call on Friday, Oct. 10, from 4 to 7 p.m., at the McVean, Hughes & McClurkin Funeral Home, 711 Wick Ave. in Youngstown, and Saturday, Oct. 11, at 10 a.m., at St. Edward Church, 240 Tod Lane in Youngstown, where a Mass of Christian Burial will be offered by Monsignor Robert Siffrin at 11 a.m. Interment will follow at Resurrection Cemetery.
Memorial contributions may be made to St. Edward Parish or The Charles and Dorothy Butler Athletic Scholarship at YSU.
Guestbook Entries
"What a great loss to all that knew Charlie. Condolences to all the Butler family"
» Art & Eileen Lewis on October 9, 2014
"My deepest condolences to you, Eileen, and your entire family. God Bless, Darrel Joseph"
» Darrel Joseph on October 9, 2014
"Kathy, so sorry to hear of your loss...but how wonderful you had your dad for many years!"
» Diane (Costarella) Russell on October 9, 2014
"Kelly may the Lord above continue to bring you and all of your family comfort and strength now and the in the future. Your father left you with lots of memories to carry you through."
» Misty Sizemore on October 10, 2014
"Great memories of the butler family on alameda,best wishes from the Flanagan family"
» Jack Flanagan on October 9, 2014
Retiree of Commercial
"Please accept my deep condolences on the loss of this great man. Not only did I have the pleasure of working with him, but was lucky to have continued contact with him through our Monday bridge games and for a short time as a fellow member with him of the Kiwanis. Like my father he was an example of how to lead your life - selfless, generous and humble. I am a better person for having known him. I am sorry I couldn't be there for the calling hours but our family is in North Carolina for the week."
» Jack Savage on October 9, 2014
"John & Denise, What a wonderful man! I still remember his sense of humor. I'm so sorry for your loss and my thoughts are with you and your family. Sincerely"
» Gail Tyrrell on October 10, 2014
"Dearest Butler family, I am so sorry for your loss. Uncle Charlie was a sweet and gentle man."
» Carol Halstead on October 14, 2014
"Kathy we were sorry to hear about you dad. Rest assure you are in our hearts and prayers"
» Dorajean Furrie Havrilla on October 29, 2014
Sign the Guestbook
---