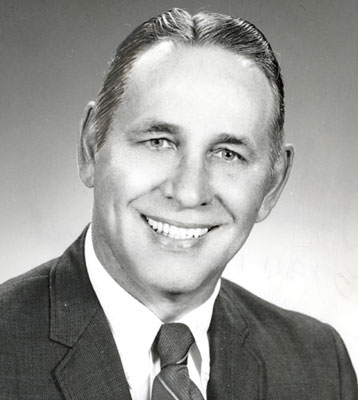 NORMAN B. PURUCKER
BOARDMAN – Services will be held Tuesday at 11 a.m. at the Davis-Becker Funeral Home, with calling hours from 10 to 10:45 a.m., for Norman B. Purucker, 97, who passed away Wednesday morning at St. Elizabeth Boardman Health Center.
Mr. Purucker was born June 24, 1917, in Youngstown, a son of Fred W. and Rose McDowell Caldwell Purucker, moving to Boardman in 1919, and was a lifelong area resident.
He was a retired real estate broker and income tax consultant.
Norman graduated from Boardman High School in 1935, and the University of Michigan in 1939. He was the greatest all-around athlete in Boardman history. He was All-Tri-County in football in 1933 and 1934, All-Tri-County in basketball in 1934 to 1935, and held the Tri-County 220-yard dash record and pole vault record. He held the Boardman High School record in pole vault and competed in the Ohio High School state track championship in pole vault in Columbus, in 1935. At the University of Michigan, he played half back in football in 1936, 1937 and 1938, receiving All-American rating in 1938. He was a sprinter on the University of Michigan's track team in 1938 and 1939, that won the Big Ten championship in both indoor and outdoor track. He was only a teenager when he played left field for Boardman's outstanding Smith Dairy Softball team in 1933 and 1934, and was their leading hitter.
He was a member of the YMCA Golf League for over 50 years, president two years, member of four league championship teams and low gross league winner four years. He was a member of two Penn-Ohio Golf League Championship teams, member of the board of directors of the Ohio Public Links Golf Association for 20 years. He was responsible for bringing the Ohio Public Links Golf Tournament to Mill Creek Park Golf Course in 1950. He was a Mill Creek Golf Course Club champion, YDIGA class A champion. He organized and directed the Boardman News Invitational golf tournament for 12 years. He was inducted into the Curbstone Coaches Hall of Fame in 1978, first inductee in the Boardman High School Hall of Fame in 1980.
He was a member of the Bridge of Hope Church. He served on the Boardman Board of Education for eight years and was president for a year. He was a football, basketball and track official for 25 years and president of the Basketball Association for a year. He was a life member of the University of Michigan "M" club, and former member of the Boardman Boosters and Curbstone Coaches.
Norman was a U.S. Navy veteran in World War II, with a tour of duty in the Pacific for 23 months. He also was a member of the US Portsmouth naval base basketball team for two seasons.
Besides his wife, the former Melba Tucker, whom he married on Nov. 22, 1952, he leaves three sons, Timothy, Terry and Jeffrey, all of Florida.
Preceding him in death, besides his parents, are sisters, Martha Flynn and Margaret Owen; and two brothers, Fred and Richard.
The family would like to thank Windsor House Parkside for the great care provided.
Tributes for Norman may take the form of contributions to the Boardman Boosters Stadium Project, P.O. Box 3174, Boardman, OH 44512.
Visit www.beckerobits.com to send condolences.
Guestbook Entries
"Heartfelt condolences to the family."
» Bill Goforth on November 16, 2014
"Dear Melba and Sons,I Am So Sorry For your loss.I have Been married to his niece For 38 years,She has Always spoken very highly of you And Your Sons,My God be With You And your Sons,At This Time,When You need him The most,Jerry And Julia Kurtz........"
» jerry kurtz on November 17, 2014
Mrs.
"Mr. Paruker did my tax returns for many years. I would only see him once a year, and he was efficient and pleasant. I always trusted his judgment. He was a good income tax advisor. Sorry for your loss."
» K. Gillenwater on November 16, 2014
Sign the Guestbook
---