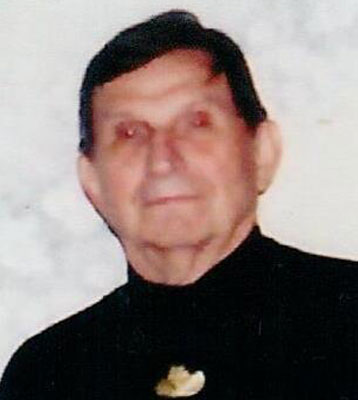 EDWARD M. PAPCIAK
BOARDMAN- There will be funeral services held Tuesday in Ford City, Pa. for Edward M. Papciak, 91, who passed away Wednesday afternoon at Vista Care Center in Boardman.
Ed was born Nov. 1, 1922, on the family farm on Hawk Hollow Road near Kittanning, Pa., a son of Andrew and Caroline Ziemianski Papciak.
He graduated from Kittanning High School with the Class of 1942, attended Clinton College during Cadet training in Clinton, S.C., and Barber School and Machinist School in Pittsburgh.
Ed served in the U.S. Army Air Corp 15th Division and was stationed in Giovanni, Italy and Athens, Greece during World War II. Ed worked at Schenley Distillery, Eljer in Ford City and was a machinist for US Steel, Millwright for PPG in Ford City. While working at PPG, he also was a service manager for Wards Dept. Store and cut hair for "Red" Kelly in Cadogan, Pa. and Thomas Hromadik in Ford City. He moved to the Youngstown area in the late 1960s to work as a Millwright for General Motors in Lordstown retiring in 1984.
He was a parishioner of St. Charles in Boardman and Christ Prince of Peace Parish when he lived in Ford City. He was a past member of USA Dance, Eagles and UAW No. 1112. He enjoyed bowling, piano lessons, cross country skiing, ballroom dancing, reading and traveling.
Edward's first wife, Mary Louise Wolfe, whom he married April 24, 1954, passed away on Nov. 22, 1990, after 46 years of marriage.
He will be greatly missed by his second wife, Betty Weddle, whom he met at a ballroom dance class in 1992, and married on Dec. 3, 2004. He will also be missed by his daughter, Louise Papciak and her husband David Vinson of Hurricane, W.Va.; two stepsons, James L. (Cathy) Shively of Struthers and Timothy "TJ" (Michelle) Shively of Manassas, Va.; a brother, Ted Papciak of Kittanning; a sister, Isabelle Morda of Boiling Springs, Pa.; eight step-grandchildren and two step great-grandchildren.
Besides his parents and first wife, Mary Louise, Edward was preceded in death by his son, Edward Joseph and his wife Shelby (Hepler) Papciak; two brothers, Stanley and Adolph "Doc" Papciak; four sisters, Adelia "Dolly" Barbetz, Helen Petras, Emila "Minnie" Perkovich and Matilda Papciak.
Friends may call from 3 to 5 p.m. today at the Fox Funeral Home, 4700 Market St., Boardman. There will be calling hours at the Mantini Funeral Home in Ford City on Monday. Funeral Mass will be at Christ Prince of Peace in Ford City at 11 a.m. on Tuesday.
Internment will be at St. Mary's Cemetery.
Family and friends may visit www.foxfuneralhome.org to view this obituary and send condolences.
Guestbook Entries
"We are so sorry to hear of Mr Papciak's passing. He is the father of a very dear and life long friend. Our thoughts and prayers go out to her and all of her family at this difficult time. We love you all. "
» Terri and Jess Elger on May 25, 2014
Sign the Guestbook
---