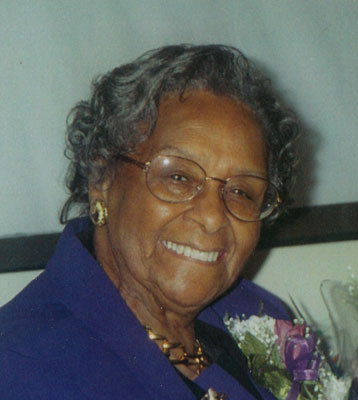 MRS. LOUISE WILLIAMS
YOUNGSTOWN – Services will be at noon on Tuesday, May 13, at the Fellowship COGIC Church, 115 Frank St. in Struthers, for Louise Williams, 89, who entered into eternal rest May 8.
She was born Sept. 24, 1924, in Campbell, a daughter of Robert and Anna Oliver Jones.
She earned her Bachelor of Science Degree in Education, and worked as a teacher, retiring in 1989 after having worked for the Youngstown City schools for 19 years and one year in the Rocky River, in 1975-76. She earned her Master's Degree in Theological Studies from Vision Christian University in June 1991. She served as an instructor at Logos School of Ministry in Youngstown under Pastor Phillip Imler.
She married Edward Williams Aug. 16, 1980, and he passed away Nov. 11, 1981.
She was currently a member of Fellowship COGIC, where she served as co-chairman of the Mother's Board.
She leaves to cherish her memory and rejoice in her peace a son, Bill (Susan) Johnson of Napierville, Ill.; two daughters, Deborah Brown and Lynette (John) Taylor, both of Youngstown; eight grandchildren, Kimberly and Joi Taylor, Robert Owens, Syndey, Madison, Jerald II, Jamica and Jarniece Johnson; five great-grandchildren; one great-great-grandchild; and a daughter-in-law, Jacci Johnson; and a host of nieces, nephews other relatives and friends.
Besides her husband, she was preceded in death by her parents; a son, Jerald Johnson; two brothers, Thomas and Benjamin Jones; and a sister, Sally Ashmore.
Friends may call one hour prior to the services, 11 a.m. to noon at the church.
Arrangements were entrusted to the L.E. Black, Phillips, and Holden Funeral Home.
The family would like to extend a special thanks to Shepherd of the Valley and to Hospice of the Valley for their care and thoughtfulness.
Guestbook Entries
"Mother Louise will long be remembered for her wisdom & encouraging words of faith and her beautiful smile. Condolences and prayers for her natural and spiritual family and friends Another soldier made it home."
» cathy on May 12, 2014
Your Lost
"I'am so sorry to hear about the lost of your mother. My heart and prayers goes out to the family. I know how it feels to lose that one strong woman in your life, who has been like a rock and guided you in the right direction. Stay strong and wise. Johnnie Adams and family"
» Johnnie Adams-Thompson on May 12, 2014
"To our dear Deb,We extend to you at this most difficult time our deepest sympathy in your loss. Our thoughts and prayers are with you. May you find peace in the days ahead knowing that your Mothers strong faith and love of the Lord has taken her to her eternal peace. God bless,Your Co-workers"
» Crumbles Bakery Staff on May 12, 2014
"Debbie and Penny - I will always remember your Mom. She was a kind and sweet lady. May God bless and keep the family in His care."
» Nonnie Smith on May 13, 2014
Sign the Guestbook
---