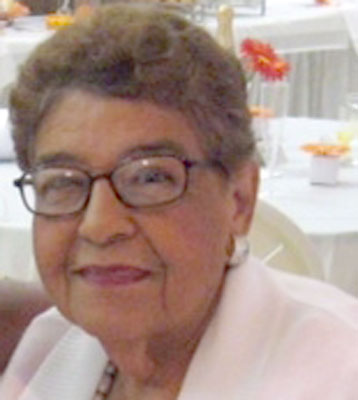 MARGARITA SANTIAGO
BOARDMAN – Margarita Santiago, 77, has transitioned from this earth to join her husband, Sirilo, son Harold and sister Angelica with our Heavenly Father on May 9, 2014.
Margarita was born Feb. 19, 1937, in Ponce, Puerto Rico, to deceased parents Ana Duco and Manuel Sanchez.
After arriving in Youngstown in her teenage years, she met and married Sirilo Santiago in 1954. They made Youngstown their home for more than 30 years before returning to their native Puerto Rico, where they would live for the next 25 years. Margarita returned to Youngstown in 2010 upon the death of husband, Sirilo, and has resided with her son, Sirilo Jr., the past four years.
Margarita was a large presence in the Hispanic community, serving as President of the Women's Sons of Borinquen Club for several years. She also worked for the Youngstown Community Action Center, where again she worked with the community at large.
For her family and friends, she was known as someone who could be relied upon to help whenever she was needed. It brought her great joy to make sure that everyone had a good time and gathered together as often as possible. She loved playing bingo and family events. On Sundays, she enjoyed watching the Pittsburgh Steelers with her son, Jr., and he in turn learned to enjoy watching novelas with her.
Margarita was preceded in death by her husband, Sirilo Sr., in 2010. She was also preceded in death by her son, Harold Santiago, in 1988. She leaves behind her surviving children, Ivette Ellis of Stamford, Conn., Sirilo Santiago Jr., of Boardman and Stella Flores of Dallas, who will continue to honor their memories. Margarita also leaves behind two granddaughters, Natalie Humphries and Alexia Santiago. She also leaves surviving sisters, Lillian Contreras, Anita Santiago, Alice Santiago, Gloria Santiago and Juanita Santiago. She leaves two brothers, Juan Emilio Santiago and Roberto Santiago. In addition, she leaves her beloved cousins whom she helped to raise as her own children, Jolie MacDougall, Lady Melfi, Rose McCormick, Carlos Natal and Raquel Harris, along with son-in-law, Robert Ellis. She will be missed by many cousins, nephews and nieces in the area, Puerto Rico and other parts of the country.
Services for Margarita will be held at the Schiavone Funeral Home, 1842 Belmont Ave. in Youngstown.
Viewing hours will be from 4 to 8 p.m. on Monday, May 12, with a service at 7 p.m. On Tuesday, May 13, there will be a viewing at the funeral home from 9 to 10 a.m., followed by a service at the Chapel of Tod Homestead Cemetery prior to the internment.
Family and friends may visit www.schiavonefh.com to share condolences with the family.
Guestbook Entries
Ms
"My deepest sympathy on the lose of your mother. May she be at peace. I graduated with Ivette from Cardinal Mooney. Had to express my love and sympathy to her and family."
» Dori Altiero on May 11, 2014
"To my cousins, With great sadness Rona and I send to all of you our deepest sympathy and apologize for not being able to be with you and the rest of the family. If there was anyone I could depend on to help me with the issues I faced growing up in Youngstown, it was my dear cousin Margo. The many days I spent at her home, knocking on her door many late nights to find a place to sleep and eat, as a young man the many times she came to my rescue without a complaint but only a desire to help and make it right. My first MacDonald's burger as a child, my first ride into the countryside, my first late night cruise around Youngstown, all fond memories I experienced with her and Sirilo. I remember as a child she would have these parties at her home for the teens growing up back then, a way to help them stay the course. Her community service came from a desire to help, as best she could, the Latino community. I can go on and on and on. My love and sympathy. Your cousin, Carlos Lopez Natal"
» Carlos Natal on May 12, 2014
Sign the Guestbook
---