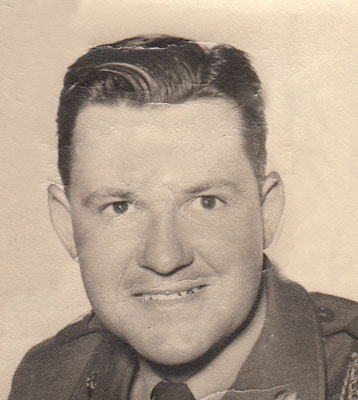 JOHN G. MOYER
YOUNGSTOWN – Services will be held Wednesday, May 14, at 1 p.m. at the Szabo & Sons Funeral Home for John G. Moyer, 88, who passed away Wednesday evening at St. Elizabeth Health Center in Youngstown.
John was born March 14, 1926, in Youngstown, a son of George and Sarah Porter Moyer.
He enlisted in the U.S. Army in June of 1944, and served in the Pacific Theater during World War II, where he was a member of the Honor Guard to General Douglas McArthur from July of 1945 to April of 1946.
John remained in the military for 26 years, serving throughout the world, including a tour in Vietnam. He was a recipient of several Bronze Stars and a Purple Heart. John retired as a Master Sgt. in July of 1970. He continued to work at the Vienna Airbase as a military guard, retiring in 1991. He was a member of the VFW, and he loved his cat.
John was married to Margaret Shifflitt on Aug. 6, 1953, and she passed away Nov. 17, 2006.
John is survived by a son, Rex (Theresa) Moyer of Youngstown; two granddaughters, Kayla and Katie Moyer; and a grandson, R.J. Moyer of Youngstown.
He was preceded in death by his wife, Margaret, and a son, Mark Moyer.
Friends and family may call from 11 a.m. to the time of service on Wednesday at the funeral home.
Interment will be held at Oak Hill Cemetery.
Guestbook Entries
"My condolences to Rex, Theresa and the Moyer family. Mr. Moyer was a special and honorable man. You have a lot to be proud of. I pray your fond memories will give you peace during this difficult time. May God bless you all."
» Kim Husk on May 12, 2014
"With our thoughts and prayers for you at this time. The most blessed prize we have in are life is our family and with the loss of your father, I truly give my hardiest condolences and if you need to talk or need anything, just I am here for you, God Bless you Rex and your family our sympathy is with your family."
» Robert Duffy/ Dan Connor on May 14, 2014
"My Mother Grace (Porter) Trojanowski and I send our Condolences. I was happy they reconnected a few months back and had a chance to talk "
» Ford Trojanowski on June 25, 2014
Sign the Guestbook
---