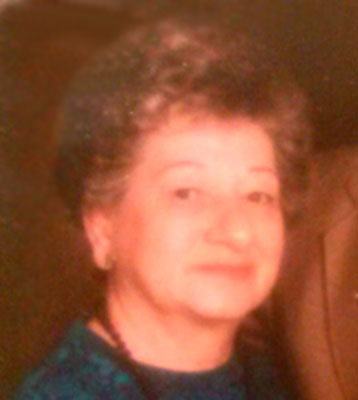 GRACE E. (STUCKEY) WARD
AUSTINTOWN - Services for Grace E. (Stuckey) Ward, 87, a homemaker, will be at 1 p.m. on Tuesday, May 13, 2014, at the Davis-Babcock Funeral Home, 4154 Clark Ave., Willoughby.
Mrs. Ward passed away Friday, May 9, 2014, at Briarfield Manor in Austintown.
Born Feb. 5, 1927, in Butler, Pa., she was formerly a longtime Willoughby resident before moving to Austintown about 17 years ago.
She was a hands-on grandmother who enjoyed participating in her grandchildren's activities.
Survivors are her son, Timothy (Diann) Harriger; daughters, Judy Ann (Jim) Lovett, Debra Kaczuk and Sandra Lynce. She was also a much loved grandmother and great-grandmother to many.
She was preceded in death by her husband, Jerome, in 2010; parents, Charles and Margaret (Hennly) Stuckey; brothers, Frank, Bill and Jim; and sister, Thelma.
The family will receive friends from 11 a.m. to 1 p.m. Tuesday prior to the service at the funeral home. The Rev. Robert A. Gaston will officiate at the service. Final resting place will be in Knollwood Cemetery, Mayfield Heights.
Guestbook Entries
"Grace,you will truly be missed by your family.I am thankful for the time I had getting to know you."
» Keith Cook on May 11, 2014
"My Grandmother was dearly loved. She had a way of making all of her grandchildern and great-grandchildfren feel special. She was always proud of our accomplishments, and when things weren't going so well she had always encouragement and words of wisdom to offer. And nothing could compare to her cooking and baking! When she would come visit Michigan, I enjoyed listening to her stories about going up in the Depression with her parents (Fred and Margaret (Hutzley) Stuckey) and siblings. It seemed like, even in that rough time, they were able to do okay with less money, less food, and less material possessions because they had each other. Grandma worked up until the time Great-Grandma Stuckey went to live with her, mostly as a waitress or in factories. She worked hard, and that set a good example for us Grandkids and Great Grandkids. I also enjoyed hearing about my Mother, Uncle Timmy and Aunt Robin when they were kids. Everyone's going to miss Grandma very much. Her wit, her wisdom, and the love that she gave us all. She'll always be in our hearts, and we were so lucky to have her in our lives for all these years. "
» Mariann Lovett on May 11, 2014
Sign the Guestbook
---