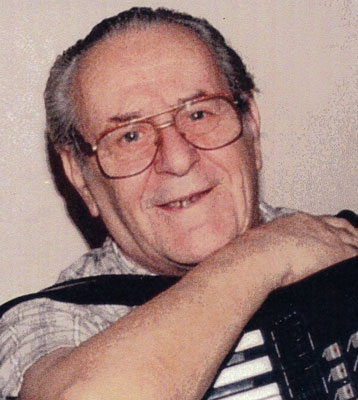 FRANK TONELLI SR
SOUTH PYMATUNING TOWNSHIP – Frank Tonelli Sr. passed away peacefully of natural causes at 10:30 p.m. Thursday, May 8, 2014, at UPMC Horizon Hospital in Farrell, Pa., following an extended illness. He was 81.
Frank was born April 17, 1933, in Sulmona Italy, in the province of L'Aquila Abruzzo. He was one of 11 children born to Urbano and Maria Fillipa Susi Tonelli.
He was educated in Italy, and he immigrated to the United States as a young man in 1955. Frank worked in several capacities at Shenango Inc. for 30 years, and he retired as a post mill operator in the 1980s.
He was a member of St. Bartholomew Church in Sharpsville, Pa.
As an accomplished musician, he played the accordion with the Tonelli Trio, a well-known Italian specialty group he formed with his wife and son. Together they entertained people in eastern Ohio and western Pennsylvania at countless weddings, festivals, and wherever folks gathered to eat, drink, and dance to Italian music. The Tonelli Trio also played for friends and family in Italy on several occasions while visiting the homeland.
His wife, the former Josephine Reino, whom he married Nov. 9, 1957, passed away May 4, 1993.
He is survived by his daughter, Mary Di Rupo and husband Aldo of Hermitage, Pa.; his two sons, Frank U. Tonelli Jr. and wife Jill of Hermitage and Samuel J. Tonelli of Sharpsville and girlfriend Michelle Zager; seven grandchildren; and three great-grandchildren. He also leaves his companion, Mary Ellen Nagy, with whom he made his home. He will be sadly missed by his many loving nieces, nephews, friends, and extended family.
In addition to his wife and parents, he was preceded in death by 10 siblings.
Calling hours will be from 4 to 7 p.m. Monday, May 12, 2014, and from 10 to 10:30 a.m. Tuesday, May 13, 2014, at the J. Bradley McGonigle Funeral Home and Crematory Inc., 1090 E. State St. in Sharon, Pa.
A Mass of Christian burial will be celebrated at 11 a.m. Tuesday at St. Bartholomew Church in Sharpsville, with the Rev. Matthew Strickenberger, pastor, as celebrant.
Entombment will be at Hillcrest Memorial Park, Hermitage.
Guestbook Entries
« Be the first to sign FRANK TONELLI SR guestbook.
---