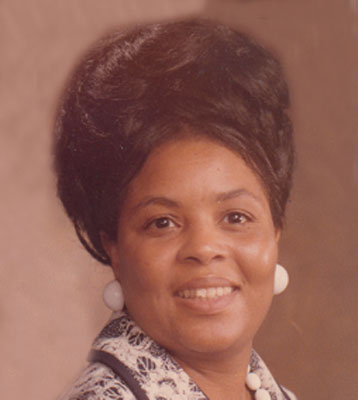 ALICE WELLINGTON
YOUNGSTOWN – There will be a home going service for Mrs. Alice Wellington, who went home to be with the Lord on May 6, 2014, at St. Elizabeth Health Center.
Alice was born Jan. 20, 1935, in Campbell, a daughter of Mr. Sylvester Redmond and Annabelle Ashmore.
She graduated from Campbell High School and worked for the Youngstown Public School System in food service for more than 30 years.
She married Mr. John Wellington on July 14, 1951.
She was a member of the Bread of Life Church of God in Christ, and the mother of the church. Mrs. Wellington loved to cook and to fish, and she loved her family and her grandchildren.
Mrs. Wellington leaves her husband, John Wellington of Youngstown; her sons, Pastor Rocco (Pamela) Wellington of Akron, Daniel Wellington of Youngstown, and Stepen (Tisa) Hamner of of Lake Milton; her daughters, Avis (Joseph) Santiago of Youngstown, and Andrea (Keith) Ford of Youngstown; her brothers, Elder Andrew Redmond of Youngstown, and William Henry (Leodell) Redmond of Houston; her sisters, Alberta (Harold) Rollins of Campbell and Anna Marks of Youngstown; 12 grandchildren; and 15 great-grandchildren.
Alice was preceded in death by her parents; her brother, Robert Redmond; a sister, Beatrice McElroy; and two granddaughters, Gabrielle Santiago and Tameka Wellington.
Calling hours will be Wednesday from 6 to 8 p.m. at the Bread of Life Church of God in Christ, 702 Cameron Ave. in Youngstown, and Thursday from 10 to 11 a.m., followed by services at 11 a.m.
Arrangements have been entrusted to the Sibley-Murray-Wellington Funeral Home, 706 North Webb St. in Alliance.
Guestbook Entries
To my old lady
"It's been almost 3yrs since god called u home and for those 3yrs I've been missing you so much words will never ever describe it. I've missed your words of comfort when I had issues u always knew what to say that made me feel better. I can still hear ur words and u telling me to rely on God and things will be ok. I love you and miss u. Until we meet again."
» Aneshia Leonard on April 22, 2017
"Aunt Goodie was a beautiful person. She could always make you laugh. She will truly be missed. To my cousins Rocky, Joy, Topsy and Danny love you and praying for you. "
» Uncle Henry, Aunt Doll, Kelli, Bill, Lydia Redmond on May 11, 2014
"Words will describe the feelings that I have for you! You have taught me so much and will cherish your life forever! Those last few hours mean more to me than you will ever know!! I LOVE YOU MOM!!!! I will MISS YOU EVERYDAY!!! Rest in the arms of Jesus and His Father!!! "
» Avis Santiago on May 12, 2014
"Rocky, Danny and family please accept our sympathies for the loss of your mother. Our thoughts and prayers are with you during this difficult time. "
» George Kafantaris on May 13, 2014
"Love and condolences from your NHS Bulldog family."
» All Classes North High School Reunion Cmte. on May 14, 2014
"Avis and family He is Hope and Comfort He's the Healer of the weak When life is filled with questions He's the Answer that you seek When you are lost and lonely He's LOVE will see you through when you feel you can't go on His Arms will Carry you love/prayers and condolences "
» Lori Knox on May 14, 2014
"Avis and family He is Hope and Comfort He's the Healer of the weak When life is filled with questions He's the Answer that you seek When you are lost and lonely He's LOVE will see you through when you feel you can't go on His Arms will Carry you love/prayers and condolences "
» Lori Knox on May 14, 2014
Sign the Guestbook
---