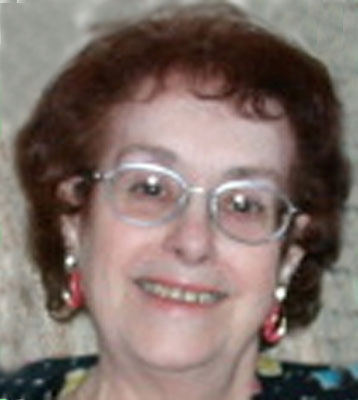 JENNIE BARBARA CHICK POPP
TWINSBURG – Jennie Barbara Chick Popp, 90, went home to be with the Lord on March 20, 2014, following an extended illness. She was a resident of The Manor at Grande Village in Twinsburg.
Born on Feb. 9, 1924, in Youngstown, to Louis and Constance Clemence LeGay Chick ("Cicchi").
Jennie attended Youngstown City Schools and, prior to her marriage, worked in the Chick family grocery business.
On Nov. 24, 1949, she married Nicholas Alexander Popp Jr. They were blessed with 49 years together and raised their five daughters in their home on Stepney Street in Niles. Nick preceded her in death on April 3, 1999.
In 2005, Jennie relocated to Macedonia, where she resided for several years with her daughter and son-in-law, Philomena and Richard Gales.
She was an active and life-long member of Our Lady of Mount Carmel Church and volunteered for many years at Mt. Carmel School and at the annual summer festival. She also volunteered with the American Heart Association and supported the World War II effort as a United Service Organization (USO) volunteer. An avid music lover, she especially enjoyed dancing. She also enjoyed flower gardening, ceramics, crafting, cooking, and word puzzles.
Over the years, she produced many beautiful ceramic pieces and crocheted blankets and scarves. Jennie's family will always cherish the memories of her Christmas Eve feasts and the delicious pasta and pizza dinners she so lovingly prepared. She always looked forward to hosting her grandchildren for their annual Christmas cookie decorating contest at her home, where many interesting designs were created. Jennie will especially be remembered for her loving and gentle spirit, warm, kind personality, and the deep compassion she possessed for those around her.
Jennie often commented that her greatest joy in life was her family and she will be lovingly missed by her five daughters, Anne M. Leschinsky (Thomas) of Cortland, Philomena Anne Gales (Richard) of Macedonia, Mary Donna Yasechko (Robert) of Niles, Theresa Popp Braun (Raymond) of Holland, Ohio, and Genevieve Popp (Steve Kay) of Cleveland; six grandchildren, John Nicholas Templeman of Cleveland, Father Michael Thomas Leschinsky, SDB of Washington, D.C.), Maribeth Leschinsky of Orange, Tara Leigh Tonsetic of University Heights, Hillary Jayne Braun of San Francisco, and Raymond William Braun Jr., of London, England; her first great-grandchild, Noah Michael Tonsetic, who was born on Feb. 27, 2014; and her sister, Mary Louise Chick Valentine of Boardman. Aunt Nini will also be affectionately remembered and missed by her many nieces and nephews.
Preceding Jennie in death were two brothers, Peter E. Chick and Anthony Chick; and two sisters, Ann Berroteran and Ernestine Pascale.
A Mass of Christian Burial will be celebrated by Jennie's grandson, Father Michael Leschinsky, SDB on Monday, March 24, at 11 a.m. at Our Lady of Mount Carmel Church, 381 Robbins Ave. in Niles.
Friends may call Monday morning, just prior to the Mass from 9:30 a.m. until the time of the 10:30 a.m. prayer service at the Joseph Rossi & Sons Funeral Home, 451 Robbins Ave. in Niles.
Interment will be at Niles City Cemetery.
Memorials in Jennie's name may be made to Crossroads Hospice, 3743 Boettler Oaks Drive, Suite E, Uniontown, OH 44685 or Don Bosco Cristo Rey High School, 1010 Larch Ave., Takoma Park, MD 20912
Jennie's family would like to extend a most heartfelt thank you to all the wonderful, skilled, and compassionate caregivers at Crossroads Hospice and The Manor at Grande Village, also special thanks to the Joseph Rossi and Sons Funeral Home.
Family and friends may visit www.josephrossifuneralhome.com to send condolences and to sign the guest book.
Guestbook Entries
"Theresa, I'm so very sorry for your loss. You and your sisters and family sure had an amazing Momma - such a loving, cheerful and inspirational woman. How wonderful you had her all these years! I wish I could have gotten to know her, too. I'm sure we could have taught each other some dance steps. She's dancing now freely with the Angels in Heaven. She will be missed by so many. You all have been blessed growing up under her wings … keep the love flowing! Sending all huge hugs and much love. LuAnne Adams Hodges Correy, Jaimee & Alyson Stoner Los Angeles, CA"
» LuAnne Adams Hodges on March 22, 2014
"Theresa, She was an amazing woman. I feel that I know her through you. I am thinking of you and your family. Judy M "
» Judy May, BGSU on March 23, 2014
"Theresa, I am very sorry to hear of your loss. I am sure this is a difficult time. I am praying for your strength and comfort as well as the strength and comfort of your family during this troubling time. Please accept my sincerest condolences. If there is anything that I can do to make this time a bit easier please do not hesitate to let me know."
» Calvin Burney on March 24, 2014
"Theresa, my prayers and thoughts go out to you and your family during this difficult time. Just know that you are in my thoughts and I am here during your time of need. "
» Naketa Jones on March 24, 2014
"Anne,Philomena and sisters, So very sorry to hear about your mom. Remembering way back to the reunions where we always had a great time. May she rest in peace, Love, Cousins Nancy & Jerry Mizen & family"
» Cousins Nancy & Jerry Mizen & Family on March 24, 2014
"Loosing parents can be very difficult if it wasn't for our family members and friends that gives us support in these trials. Having such a trial during the Easter season brings comfort and hope. Our prayers are with you and your family. Faith and family "
» Faith Olson on March 24, 2014
Sign the Guestbook
---