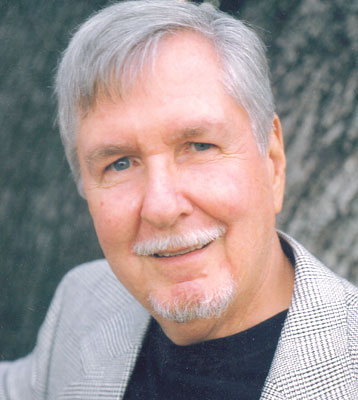 JAMES 'JIM' ROBY GALLANT
NEW MIDDLETOWN – James "Jim" Roby Gallant passed away on Tuesday, May 6, 2014, with his two devoted daughters by his side.
Jim was born on Christmas Eve 1930, in Marion.
Jim graduated from Bucyrus High School. He was captain of the high school basketball team.
Jim graduated from The Ohio State University with a B.A. degree in Education. He also majored in Theatre and Drama at Ohio State.
Jim was a member of Alpha Gamma Rho and a radio and television honorary while at Ohio State.
Jim served in the U.S. Navy as an air traffic controller.
Jim's passion for broadcasting, radio and television was the path to his life-long career that spanned 59 years in the entertainment industry. Jim was a professional disc jockey, a radio and TV staff announcer and a radio and TV newsman. Early in Jim's career, he worked at WFMJ. Jim also worked in major markets including Dayton, Norfolk, Chicago, New Haven, Philadelphia, Cleveland, Columbus, Cincinnati, Kansas City, and Miami, and spent the last 30 years working in Los Angeles as a voice-over artist, doing commercials and working in theatre, television and film.
Jim was the host of his own TV show, Jim Gallant Connecticut Bandstand, out of New Haven, Conn. Jim was known as "the voice" in Kansas City. He was a host on Encore cable TV in Los Angeles. Jim was a member of the Screen Actors Guild (SAG) and the American Federation of Television and Radio Artists (AFTRA).
Jim's other life-long passion was his love of golf. He was a proficient golfer and he competed in several tournaments.
Jim was preceded in death by his father, Walter C. Gallant; his mother, Lida Mae (Fisher) Gallant; and his brother, Kenneth E. Gallant.
Jim is survived by his two daughters, Jessica Gallant of Salem and Michele "Melanie" Curatola and son-in-law, Carmen Curatola of New Middletown; a granddaughter, Stephanie Curatola of Salem; and a great-grandson, Logan Ray Smith of Salem.
Jim was also survived by his two sisters, M. Joan Ainsworth of Ohio City and June Secrist of Wadsworth; his former wives, Elaine (Dyer) Mettee of New Middletown and Mari Ann Gallant of Atlanta; and his dear cat, Squirrelly (Kimmie).
Jim enjoyed framed artwork, opera, classical music, taking walks, his cats, baseball, football and basketball.
Jim was a very special, passionate, gentle soul. He was loving, kind, generous and he always helped those in need. He was very funny and witty and loved to entertain his daughters with all his different voice impressions of John Wayne, Cary Grant, Walter Brennan, Bela Lugosi, and Boris Karloff to name a few. Jim was a true gentleman.
Jim was dearly loved and admired by his family and his many friends. He will be greatly and deeply missed.
In lieu of flowers, the family kindly requests that donations be made in loving memory of Jim to the Humane Society of the United States or to St. Jude Children's Research Hospital.
A memorial service celebrating the life of Jim Gallant will be held at the Zion Lutheran Church in New Middletown on Sunday, July 6, at 4 p.m., with the Reverend Larry Klinker officiating.
Guestbook Entries
Jbird710@comcast.net
"I remember watching Jim on Connecticut Bandstand. He was a great host on a great show. God Bless You Mr. Gallant."
» JAY D. ADAMS on December 19, 2017
IN SYMPATHY
"I remember when you hosted the pay TV channel "Encore" in the early 1990's. Thank you for your kindness, Mr. Gallant"
» PAUL CASLER on December 30, 2017
The Teenrockers Band
"Sorry we didn't find out sooner but all of the guys in your live show band are sorry to hear of your passing ! Great memories ! Jim Zoppi and the Teenrockers Band"
» The Teenrockers on September 22, 2018
Sign the Guestbook
---